Almonds and Almond Oil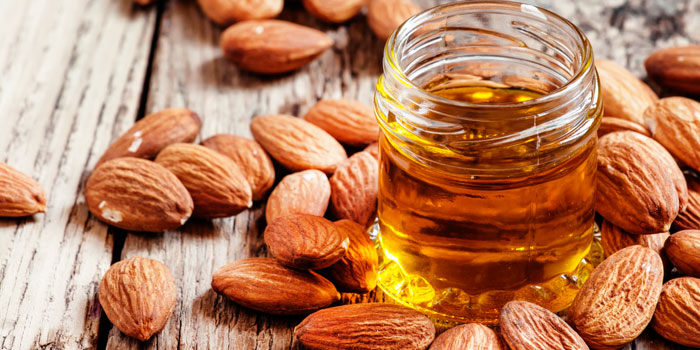 If you've ever had an aromatherapy massage you've probably experienced the skin rejuvenating effects of almond oil as it is often used as a carrier oil for essential oils.  But it is more than just a vehicle for other oils. Ancient Chinese, Ayurvedic and Greco-Persian schools of Medicine have all long since used almond oil to treat dry skin conditions such as psoriasis and eczema. This healing oil has been shown to reduce post-operative scarring and to smooth, moisturise and rejuvenate the skin, improving both complexion and skin tone (1). These beneficial effects are partly explained by research showing that almond oil penetrates the top layers of the skin (2).
Reduce Sun Damage with Almond Oil
Ultraviolet radiation from sunlight is implicated in the development of wrinkles and some types of skin cancer. Although human skin has evolved various defense mechanisms to protect itself from sun damage, including keratinisation and melanin pigmentation (tanning), it is worth protecting the skin as much as possible from the sun. Whilst sunscreen has its place it is necessary to spend some time outside without sunscreen in order for the body to make vitamin D. That said, be sure to cover up before you burn.
Almond oil is not a sunscreen but, if applied after sun exposure, it may reduce damage caused by the sun. Research shows that almond oil reduces the structural damage to the skin and slows the aging effects caused by UV radiation (3).
More than just skin deep…
And there are plenty of reasons to include almonds in your diet as well:
Eating nuts, such as almonds, is associated with a lower body mass index, reduced waist circumference, lower blood pressure, reduced insulin resistance, higher HDL cholesterol and a reduced likelihood of being overweight (4). These beneficial effects are likely to be due to their high nutrient content, protein, fibre and beneficial mono- and polyunsaturated fats (5).
Eating 40g of almonds a day has been shown to reduce abdominal fat and leg fat while improving cholesterol levels (6).
Almonds and almond skins are rich in fiber and other components that have potential prebiotic properties (7). One research study gave 56g a day of roasted almonds to healthy adults. They found the intake of almonds increased the beneficial Bifidobacterium and Lactobacillus bacteria in the gut while repressing the growth of the pathogen Clostridium perfringens. The researchers conclude that eating almonds may lead to an improvement in the intestinal microbiota profile and that almonds possess potential prebiotic properties (8).
Almonds are incredibly versatile and come in many different forms. Here's how to get more of them into your diet:
Add toasted almonds to porridge or muesli.
Blend ground almonds into smoothies.
Spread almond butter on toast or oat cakes or stir it into porridge or grains after cooking.
Add toasted almonds to rice or lentil salads along with roasted vegetables.
Make baked goods extra delicious by replacing part of the flour with ground almonds.
Use almond butter in dips, sauces and dressings.
Pour almond milk onto cereal or use it to make sauces or custard.
Sprinkle toasted, flaked almonds onto soups or desserts just before serving.
References
1. Complement Ther Clin Pract. 2010 Feb;16(1):10-2. The uses and properties of almond oil. Ahmad Z.
2. J Dermatol Sci. 2008 May;50(2):135-42. Lipid uptake and skin occlusion following topical application of oils on adult and infant skin. Stamatas GN, de Sterke J, Hauser M et al.
3. J Cosmet Dermatol. 2007 Mar;6(1):14-9. Effect of pre-treatment of almond oil on ultraviolet B-induced cutaneous photoaging in mice. Sultana Y, Kohli K, Athar M, Khar RK, Aqil M. 
4. Nutr J. 2015 Jun 28;14:64. Tree Nut consumption is associated with better adiposity measures and cardiovascular and metabolic syndrome health risk factors in U.S. Adults: NHANES 2005-2010. O'Neil CE, Fulgoni VL, Nicklas TA.
5. J Clin Lipidol. 2015 Jan-Feb;9(1):58-64. Statins and almonds to lower lipoproteins (the STALL Study). Ruisinger JF, Gibson CA, Backes JM et al. 
6. J Am Heart Assoc. 2015 Jan 5;4(1):e000993. Effects of daily almond consumption on cardiometabolic risk and abdominal adiposity in healthy adults with elevated LDL-cholesterol: a randomized controlled trial. Berryman CE, West SG, Fleming JA, et al.
7. Nutr Res. 2016 Jan;36(1):80-9. Diet quality improves for parents and children when almonds are incorporated into their daily diet: a randomized, crossover study. Burns AM, Zitt MA, Rowe CC, et al. 
8. Anaerobe. 2014 Apr;26:1-6. doi: Prebiotic effects of almonds and almond skins on intestinal microbiota in healthy adult humans. Liu Z, Lin X, Huang G, Zhang W et al.