Anti-Viral Help Mates
April 17th, 2020
|
Posted in
Info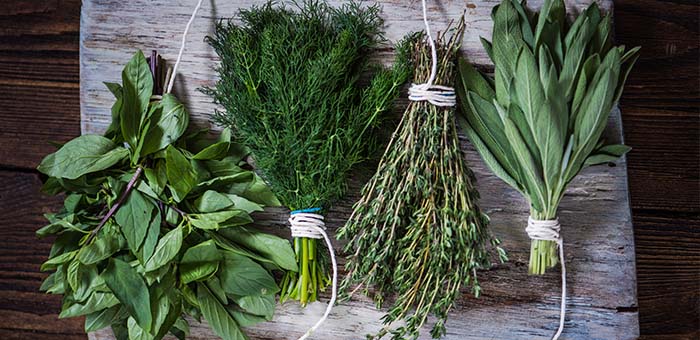 Across all cultures medicinal plants have been used throughout history for the treatment of diseases and infections due to their broad therapeutic spectrum and minimal side effects. The limited advances in the field of anti-viral drug research coupled with drug resistance has led to progress in the field of utilising herbs as antiviral agents. In the last few decades hundreds of herbs and plant metabolites have been tested for their antiviral activities with some showing significant activity in the amelioration or prevention of viral diseases (1).
Plants contain compounds which can target certain viruses or reduce the effects of some viral infections. Encouragingly, recent research has found that herbs commonly used in Traditional Chinese Medicine for the treatment of viral respiratory infections may contain compounds that directly inhibit the Covid-19 coronavirus (2).
As well as herbs, antioxidants and other nutrients have been shown to have anti-viral activity. Let's look at a few here:
Beneficial Compounds
Curcumin – derived from turmeric, curcumin has been found to have anti-bacterial, anti-viral and anti-fungal properties (3).
N-acetylcysteine (NAC) – may reduce inflammatory compounds in lung tissue (4).
Glycyrrhizin – derived from liquorice, inhibits pro-inflammatory responses (4).
Polyphenols, triterpenoids and flavonoids – are plant-derived antioxidants that could reduce cell damage caused by viruses (4). Most fruit, vegetables, nuts and seeds contain these compounds. Eat a wide variety of colours to get the full spectrum.
Green tea polyphenols – epigallocatechin gallate (EGCG) can inhibit the pathogenesis of influenza-infected cells due to its antioxidant activity (4).
Vitamin C – has been shown to be beneficial for patients suffering from severe avian influenza (4).
Vitamin D – Results from the Irish Longitudinal Study on Ageing (TILDA)' finds that Vitamin D plays a critical role in preventing respiratory infections, reducing antibiotic use, and boosting the immune system response to infections. Vitamin D is produced by the action of sunlight on bare skin between March and September in the UK. Many people become deficient in it during the winter. Getting outside is important where possible. Supplementing with Vitamin D3 and K2 (which aids the use of vitamin D in the body) may be helpful for those who aren't able to get outside every day (5).
Herbal Helpers
The Lamiaceae family of herbs is well known for having a wide range of biological and medicinal properties. The family includes thyme, mint, oregano, basil, sage, savoury, rosemary, self-heal, hyssop and lemon balm. Some in vivo experiments suggest that this family of herbs could help in the prevention and treatment of some viral diseases. They may also help to reduce the side effects of the diseases and of the drug therapy (6).
Other in vitro and clinical studies support the idea that aromatic herbs have a potential role in the treatment of respiratory ailments. Eucalyptus, mint, oregano, sage and rosemary are cited as having anti-inflammatory, anti-bacterial and anti-viral activities. Some of these herbs have direct activity on the respiratory tract, the coughing reflex and airflow in the nasal tract (7).
Other potentially helpful, traditionally used herbs include:
Echinacea – extracts of echinacea have been found to shorten the duration and severity of colds and other upper respiratory infections when given as soon as symptoms appear (8).
Garlic – has a long history of use against many types of infections. It contains allicin which is a potent, broad spectrum antimicrobial with antiviral, antifungal, antibacerial and anti-parasitic activity (9)
Elderberry – traditionally made into a syrup to reduce flu and cold symptoms and to support the immune system, elderberry has proven antiviral activities (10).
Ginger – fresh ginger blocks the attachment of viruses to cells in the airways where they often first enter the body (11).
Clove oil – has antimicrobial, antioxidant, antifungal, antiviral activity and anti-inflammatory properties (12).
Liquorice root – contains glycyrrhizin and other compounds which have been shown to have anti-viral, anti-inflammatory and antioxidant activity (13). Liquorice should not be taken by those with high blood pressure.
Cat's Claw – supports the immune system and has antiviral, antioxidant and anti-inflammatory properties (14)
Calendula – studies have shown calendula to have anti-inflammatory and anti-viral properties (15).
How to Use Antiviral Herbs
Teas – Put 1-2 tablespoons of dried or fresh herbs into a teapot. Pour on boiling water and let steep for 10-15 minutes. Strain and drink.
Essential oils – combine 2 drops of the essential oil with a tsp of carrier oil such as almond oil or coconut oil and rub into your skin. Alternatively, add a few drops to a warm bath and have a good soak.
Steam – add 7 drops of essential oil to a bowl of hot water. Lean over the bowl and inhale the steam to clear the nasal passages.
The blog post Spring Cleaning Naturally explains how to save money and protect the environment by making your own cleaning products. And the blog post on Sprouting Goodness describes how to up your nutrient intake by growing your own sprouts.
Always consult your doctor before taking any herbal remedies, especially if you are pregnant or taking other medications.
---
References
1. Curr Drug Metab. 2018;19(3):236-263. Medicinal and Therapeutic Potential of Herbs and Plant Metabolites / Extracts Countering Viral Pathogens – Current Knowledge and Future Prospects. Dhama K et al.
2. J Integr Med. 2020 Mar;18(2):152-158. In silico screening of Chinese herbal medicines with the potential to directly inhibit 2019 novel coronavirus. Zhang DH et al.
3. Biomed Res Int. 2014;2014:186864.A review on antibacterial, antiviral, and antifungal activity of curcumin. Moghadamtousi SZ et al.
4. Cell Mol Immunol. 13, 3–10 (2016). The cytokine storm of severe influenza and development of immunomodulatory therapy Liu Q et al.
5. Neuroscience news. April 7 2020. Could vitamin D help in fight against COVID-19?
6. Pharmacol Res. 2018 Jul;133:301-314. Potential of selected Lamiaceae plants in anti(retro)viral therapy. Bekut M et al.
7. Harefuah. 2008 Oct;147(10):783-8, 838. [The treatment of respiratory ailments with essential oils of some aromatic medicinal plants]. Rakover Y et al.
8. Integr Cancer Ther. 2003 Sep;2(3):247-67. Immune system effects of echinacea, ginseng, and astragalus: a review. Block KI, Mead MN.
9. Microbes Infect. 1999 Feb;1(2):125-9. Antimicrobial properties of allicin from garlic. Ankri S, Mirelman D.
10. Phytother Res. 2018 May;32(5):811-822. Antiviral potential of medicinal plants against HIV, HSV, influenza, hepatitis, and coxsackievirus: A systematic review. Akram M et al.
11. J Ethnopharmacol. 2013 Jan 9;145(1):146-51. Fresh ginger (Zingiber officinale) has anti-viral activity against human respiratory syncytial virus in human respiratory tract cell lines. Chang JS et al.
12. Phytother Res. 2007 Jun;21(6):501-6.The chemical composition and biological activity of clove essential oil, Eugenia caryophyllata (Syzigium aromaticum L. Myrtaceae): a short review. Chaieb K et al.
13. Phytother Res. 2018 Dec;32(12):2323-2339. Liquorice (Glycyrrhiza glabra): A phytochemical and pharmacological review. Pastorino G et al.
14. Phytochemistry. 2005 Jan;66(1):5-29. Ethnobotany, phytochemistry and pharmacology of Uncaria (Rubiaceae). Heitzman ME et al.
15. BMC Cancer. 2006 May 5;6:119. A new extract of the plant Calendula officinalis produces a dual in vitro effect: cytotoxic anti-tumor activity and lymphocyte activation. Jiminez-Medina E et al.