Be Prepared!
December 6th, 2019
|
Posted in
Recipes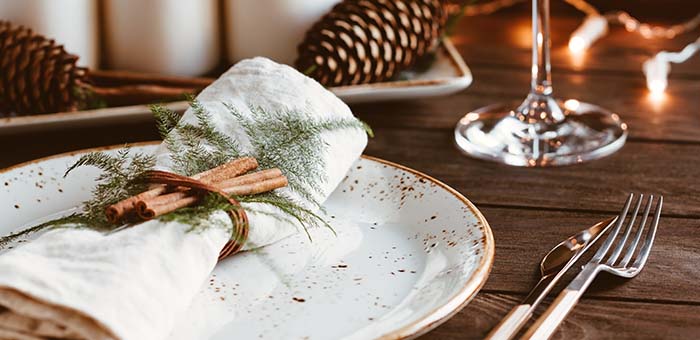 Christmas is a time of celebration, togetherness, cosiness and fun. A time away from the usual routines and rules of everyday life. However, if you are the one hosting and cooking it may be a high stress time of non-stop providing for others. To counter this ask everyone to bring a dish to contribute to the festivities. Then prepare some foods in advance. Below are a few recipes that can be made in advance to keep you ahead of the game. See also blog posts Happy Healthy Christmas Tips and Stock Up and Stay Calm.
---
Festive Buckwheat,  Chestnut and Mushroom Bake
This can be prepared a day or two in advance and stored in an air tight container in the fridge.
Gluten free, dairy free, can be vegan
Serves 4-6
225g/8oz buckwheat
2 tbsp olive oil
1 clove of garlic, peeled and chopped
225g/8oz mushrooms, chopped
1 tbsp fresh thyme
1 tbsp sage, finely chopped
2-3 carrots, grated
160g/4oz ready cooked chestnuts, chopped
110g/4oz hazelnuts, toasted and roughly chopped
2 tbsp tamari soy sauce
2 tbsp tahini or peanut butter mixed with a bit of warm water
2 eggs, beaten (optional)
Salt and black pepper
Put the buckwheat in a pan with 350ml/1.5 cups of water and a pinch of salt. Bring to the boil. Cover and simmer with the lid on until all the water has been absorbed – about 15 minutes.
Meanwhile, sauté the garlic, mushrooms, and herbs in the olive oil until soft.
Combine the mushroom mixture, grated carrots, cooked buckwheat, chestnuts, chopped nuts and tamari.
Stir in the tahini sauce and the eggs if using.
Season with salt and pepper to taste.
Transfer to a lined or oiled 900g/2lb loaf tin. If making in advance, cover and refridgerate.
Remove from the fridge an hour before cooking. Bake in the oven on gas mark 5/190C for 30 minutes until set and just browning on top.
Serve with roasted vegetables and vegetarian gravy.
---
Spiced Red Cabbage
This tasty side dish can be made up to 3 days in advance and stored in an air tight container in the fridge.
Gluten free, can be vegan
2 tbsp butter, olive oil or coconut oil
1 large red cabbage, finely sliced or shredded (not grated)
50g raisins or sultanas
1 tsp ground cinnamon
1 tsp ground ginger
pinch of ground cloves
Dash or apple cider vinegar
2 tbsp tamari soy sauce
Salt and pepper to taste
Melt the oil or butter in a large oven proof casserole dish. Add the cabbage, raisins and spices.
Stir well to combine the ingredients. Add the cider vinegar and tamari. Season with salt and pepper. Cook for a few minutes stirring well.
Cover with a lid or foil and transfer to the oven. Cook on gas mark 3/170C for an hour. Stir well. If it looks dry add a dash or water or some oil, Cook for another hour until the cabbage is soft.
Remove from the oven, cool and store in the fridge until needed. Reheat in the oven or on the hob.
---
Chocolate Chestnut Almond Bites
These seasonal treats can be made in advance and stored in the freezer in a sealed container until needed.
Vegan, gluten free, can be sugar free
1 cup of medjool dates, pitted
1 cup of almonds, toasted
100g ready cooked chestnuts
1 tbsp of almond butter
2 tbsp maple syrup (optional)
2 tbsp coconut oil, softened
4 tbsp cacao powder
Put the dates into a food processor and blend briefly. Add the almonds and blend again.
Add the rest of the ingredients and blend until you have a fairly smooth, thick dough.
Spread the mixture out on a lined, shallow tin or tray. Smooth it down with the back of a spoon so it reaches the corners of the tray.
Cover and put in the freezer. Remove from the freezer an hour or so before required. Once softened cut into small squares.