Buckwheat and Poppy Seed Sourdough Bread
August 26th, 2020
|
Posted in
Recipes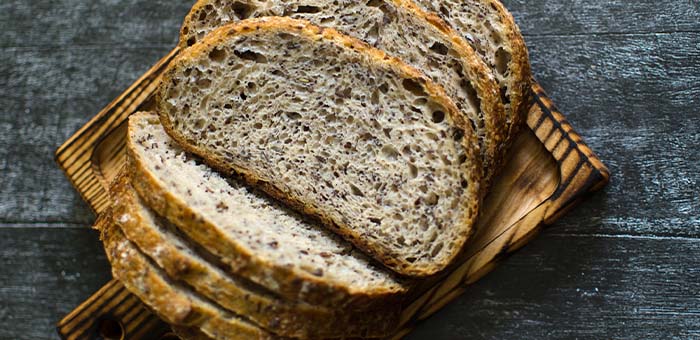 If you've read the blogpost on The Power of Fermentation you'll be aware of the many health benefits of eating fermented foods, and if the blogpost on B12, Fermentation and Bread got you craving toast here is a recipe for sourdough bread that is gluten free. To simplify matters although it's a sourdough bread a sourdough starter is not needed. It does take a couple of days to make from start to finish but the amount of time spent tending to it is actually quite small. It might be worth doubling the recipe and putting a loaf in the freezer. It's made with whole buckwheat rather than buckwheat flour which gives it a nice texture. It works well toasted but not so well for sandwiches.
Ingredients
2 cups buckwheat groats
1 cup water, plus more for soaking
1/2 teaspoon salt
1/3 cup mixed seeds eg: poppy seeds, caraway seeds, sunflower seeds, pumpkin seeds (optional)
Rinse the buckwheat and transfer to a large non-metal bowl – ceramic or glass are good. Cover with at least 2 inches of water. Cover with a cloth and let it soak overnight.
Drain the buckwheat through a sieve. Do not rinse it. It needs to be a bit slimy.
 Transfer the strained buckwheat to a food processor and add 1 cup of water, salt and seeds.
Pulse until combined, but not smooth. The aim is to combine the liquid and grain so that they don't separate when poured out of the blender.
Pour the batter back into the bowl you soaked it in and cover with a cloth and let it sit for 24 hours at room temp.
Bubbles will start to appear and the mixture will rise between 1-3cm.
Gently transfer the batter to a lined loaf tin.
The bread can be cooked at this stage but if you want to ferment it further, cover and leave for another 12 hours.
Heat the oven to gas mark 7 or 210° C. Put the loaf into the oven and bake for 40-45 minutes.
Once the surface has started to crack and the edges are slightly browned take it out of the oven, remove from the tin, and return the bread to the oven to cook up-side-down for a further 10 minutes.
Leave to cool before eating.The bread will keep for 3-5 days at room temperature and can be frozen.