Christmas Treats to Share
December 13th, 2021
|
Posted in
Recipes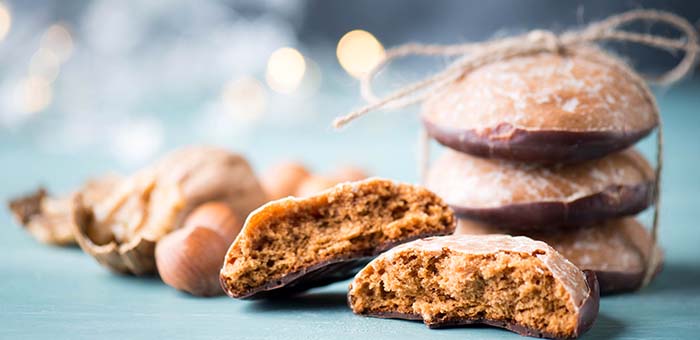 Here are some recipes for tasty treats to have in stock this Christmas. They can all be made in advance. The Lebkucken Cookies contain a delicious mix of spices that will make your house smell divine. They last weeks if kept in an airtight container. The Orange Hazelnut Squares also last well in the fridge or can be kept in the freezer for an even longer life.
Lebkucken Cookies
Can be gluten free
The cookie dough needs to chill for a couple of hours before you bake them. Ideally, make the dough the day before so it can chill overnight.  This dough is also suitable for making a gingerbread house.
200g plain flour (use gluten free if needed)
40g ground almonds
1 tsp baking powder
½ tsp salt
2 tsp cinnamon
½ tsp ground cardamom
½ tsp powdered cloves
½ tsp powdered anise
½ tsp grated nutmeg
½ tsp ground ginger
110g honey or maple syrup
100g brown sugar or coconut sugar
60g butter or coconut oil
1 egg, lightly beaten
Sifttheflourintoabowl and stir in the ground almonds and baking powder.
Mixthe salt and spices together in another
Gently heatthehoney,sugarandbutter or coconut oil untilthesugar has Do not boil it.
Removethepanfromtheheatandstirinthe
Graduallybeatintheflour,addingasmuchasisneededtomakethedough form into a mass that pulls awayfromthesidesoftheAllowtocoolfor5minutes.
Beatinthe The dough will get firmer as it cools so it may feel quite sticky. Leave in a covered bowl at room temperature for a couple of hours or overnight.
When ready to bake the cookies line a couple of baking trays with baking parchment.
Sprinkle some flour on the table or large board and lightly knead the dough.
Roll out the dough toabout5mm thick. Cutoutshapes using cookie
Alternatively, break off small pieces of dough, shape them into balls and flatten slightly before placing on the lined baking tray. This will make thicker cookies that will take longer to cook.
Bakeatgas4/180C/350Fforabout10minutes until golden brown. The cookingtimevariesdependingonthicknessof
If you have to cook the cookies in batches put the uncooked dough in the fridge before placing in the oven to avoid it warming up.
Decorate cooled biscuits with icing, melted chocolate If you make a hole in the biscuits before baking they can be threaded with ribbon and hung on the Christmas tree.
---
Orange Hazelnut Squares
Vegan, gluten free
1 cup of medjool dates, pitted
1 cup of hazelnuts, toasted
100g ready cooked chestnuts
2 tbsp of hazelnut butter
2 tbsp maple syrup (optional)
2 tbsp coconut oil, softened
4 tbsp cacao powder
Zest of one orange
3 tbsp chopped hazelnuts, toasted
Put the dates into a food processor and blend briefly. Add the hazelnuts and blend again.
Add the rest of the ingredients and blend until you have a fairly smooth, thick dough.
Spread the mixture out on a lined, shallow tin or tray. Smooth it down with the back of a spoon so it reaches the corners of the tray.
Sprinkle over the chopped hazelnuts and gently press them into the mixture.
Cover and refrigerate for an hour before cutting into squares.
The squares can be stored in the freezer in a lidded container or freezer bag until required. Remove from the freezer an hour before serving.
---
Vegan Christmas Cake
Can be gluten free
500g mixed dried fruit
50g dried cranberries
50g dried figs, chopped
50g dried apricots, chopped
3 tsp mixed spice
100ml sherry or alcohol free Christmas beverage
Zest and juice of 1 large orange
2 tbsp ground chia seeds
100ml soy or almond milk
200g soft brown sugar
3 tbsp molasses
175g margarine or coconut oil, softened
300g plain flour (use gluten free if needed)
125g ground almonds
1 tsp bicarbonate of soda
1 tsp salt
1 tbsp apple cider vinegar
The day before or several hours before you want to bake the cake, put the mixed dried fruit, cranberries, figs, apricots, mixed spice, sherry, and orange zest and juice in a bowl, cover and leave to soak overnight.
Line a deep 20cm/8in round cake tin with a double layer of baking parchment
Mix the chia seeds and milk together in a small bowl.
Put the sugar, molasses and margarine or coconut oil into mixing bowl and beat until fluffy.
In another bowl, combine the flour, almonds, bicarbonate of soda and salt.
Add the chia and milk to the creamed sugar mixture. Then add the dry ingredients and the cider vinegar.
Mix well to form a stiff batter. Stir in the soaked dried fruit along with any liquid.
Transfer the mixture to the lined tin and smooth the top. Bake for 2 hours at 150C/Gas 2.
Leave to cool in the tin.
Can be iced or decorated as desired.
---
See blog post Celebrate the Winter Solstice for ideas on how to honour the time of year and the turning of the earth around the sun.
And if you or anyone you know suffers with their mental health do read the blog post Look After Your Mental Health This Christmas.