Food and Mood
November 26th, 2019
|
Posted in
Info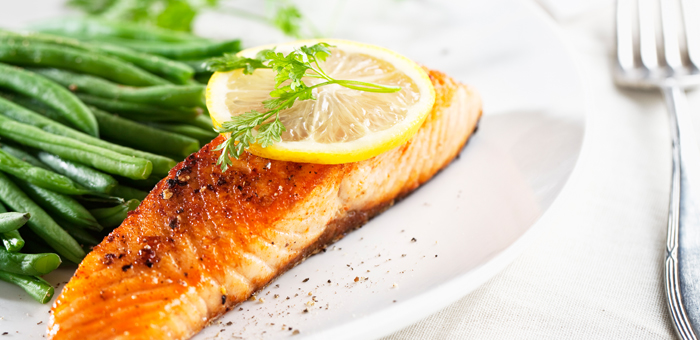 Evidence is growing for the relationship between nutritional deficiencies, diet quality and mental health, and for the use of dietary changes and nutritional supplements to improve mental well being (1).
The blog post The Microbiome and Mood shows there is increasing evidence for the gut microbiome as a key factor in the link between diet and depression (2). The post on the Winter Blues goes through the lifestyle changes you can make to reduce depression brought on by the longer nights. Here we'll look at which particular foods and diets are most effective for those with depression or SAD.
The Best Diet for Depression
There is now convincing evidence that dietary improvements significantly reduce symptoms of depression. The good news is that highly specialised diets are not necessary for most people as evidence shows that weight loss diets, high nutrient diets, fat reduction diets and the Mediterranean diet all improve mental health. The reason for this could be that the dietary improvements lead to reduced obesity, inflammation and fatigue – all of which impact on mental health (3).
Even greater improvements are seen when dietary improvements are combined with exercise.
Depression and Inflammation
Studies indicate that high levels of inflammation are associated with an increased risk of developing depression. Individuals with mental illness often consume more pro-inflammatory foods and fewer anti-inflammatory nutrients than the general population (4). Let's look at which foods to avoid and which to include to reduce inflammation and improve mental well being.
Foods to Include
Foods that are associated with a lower risk of depression include:
Olive oil
Fish
Nuts
Legumes such as peas, beans and lentils
Fruits and vegetables (5)
Antioxidants
It's thought that the reason why individuals who consume a Mediterranean diet have lower rates of depression may be due to the high levels of antioxidants or polyunsaturated fatty acids found in the Mediterranean diet (6). The foods that supply these antioxidants are fruit, vegetables, nuts and seeds.
Dietary antioxidants such as green tea polyphenols or isoflavonoids from soy and other plant foods can play an important role in the prevention and treatment of depression (7,8).
Sesamin, a lignan from sesame seed, has been found to reduce anxiety and depression (9).
The Role of Tryptophan
The neurotransmitter, serotonin plays an important role in mood, satiety, and sleep. Although certain foods are rich in serotonin, it does not easily cross the blood brain barrier. However the serotonin precursor, tryptophan, can readily cross the blood brain barrier making a tryptophan rich diet worthwhile for those who are susceptible to depression (10,11).Tryptophan needs vitamin B6 to be converted into serotonin and insulin is needed for it to cross the blood brain barrier. Eating tryptophan rich foods with carbohydrates and B vitamin rich foods will maximise the benefits.
Tryptophan rich foods include: chickpeas, chicken, turkey, eggs, cacao, tahini, pumpkin seeds, rice, bananas, tempeh, tofu and oats.
Foods rich in vitamin B6 include: eggs, spinach, fish, poultry, green vegetables, sunflower seeds, brown rice, bananas.
Foods to Avoid
Consumption of sweetened drinks, sugary foods, fried foods, processed meats and baked products have been shown to be associated with an increased risk of depression so are best avoided (5).
References
1. Psychosom Med. 2019 Apr;81(3):265-280. The Effects of Dietary Improvement on Symptoms of Depression and Anxiety: A Meta-Analysis of Randomized Controlled Trials. Firth J, Marx W, et al
2. J Neuropsychiatry Clin Neurosci. 2017 Winter;29(1):39-44. Curr Opin Psychiatry. 2015 Jan;28(1):1-6.The gut microbiome and diet in psychiatry: focus on depression. Dash S, Clarke G et al.
3. Int J Health Plann Manage. 2019 Sep 12. Evaluating Mediterranean diet adherence in university student populations: Does this dietary pattern affect students' academic performance and mental health? Antonopolou M, Mantzorou M et al.
4. Front Psychiatry. 2019 May 15;10:350. What is the Role of Dietary Inflammation in Severe Mental Illness? A review of observational and experimental findings. Firth et al.
5. Int J Prev Med. 2019 Apr 3;10:42.Nutritional Aspects of Depression in Adolescents – A Systematic Review. Khanna P, Chattu VK et al.
6. Clin Nutr. 2019 Oct;38(5):1995-2001 Feeding melancholic microbes: MyNewGut recommendations on diet and mood. Dinan T, Stanton C et al.
7. Antioxidants (Basel). 2019 Sep 5;8(9). pii: E376. Linking What We Eat to Our Mood: A Review of Diet, Dietary Antioxidants, and Depression. Huang Q, Liu H et al.
8. J Affect Disord. 2019 Oct 5;261:121-125. Daily dietary isoflavone intake in relation to lowered risk of depressive symptoms among men. Cui Y, Huang C et al.
9. J Agric Food Chem. 2019 Nov 1.Supplementation of Sesamin Alleviates Stress-Induced Behavioral and Psychological Disorders via Reshaping the Gut Microbiota Structure. Wang Q, Jia M. et al.
10. Neurochem Int. 2013 Feb;62(3):324-9. Effect of diet on serotonergic neurotransmission in depression. Shabbir F, Patel A et al.
11. Curr Opin Clin Nutr Metab Care. 2016 Jan;19(1):55-61. Mood, food, and cognition: role of tryptophan and serotonin. Strasser B, Gostner JM, Fuchs D.