Go Nuts for Nuts this Christmas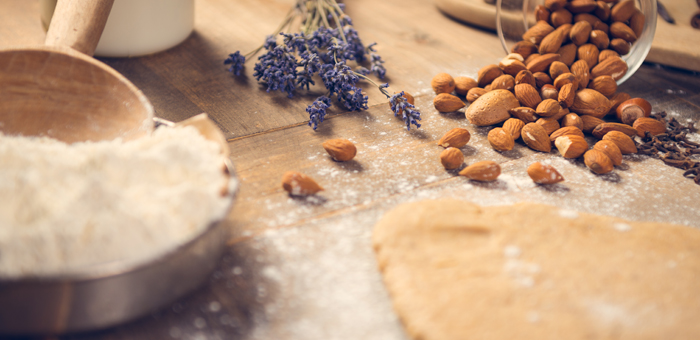 Christmas is the time when nut consumption is at its peak. This is good news for the nation's health as nuts are extremely healthy and very versatile. Here are just some of their benefits followed by a recipe for some delicious almond cookies.
Nuts for a healthy gut and healthy weight – Nuts contain fibre and polyphenols which exert beneficial prebiotic effects on the gut microbiome, which in turn plays a significant role in weight (1,2,3).
Eating nuts is associated with a lower body mass index, reduced waist circumference, lower blood pressure, reduced insulin resistance and a reduced likelihood of being overweight (4). These beneficial effects are likely to be due to their high nutrient content, protein, fibre and beneficial mono- and polyunsaturated fats.
Eat walnuts – Eating just 7 walnuts a day has a protective effect against colon cancer. Part of the effect is caused by the walnuts acting as a prebiotic encouraging the growth of beneficial bacteria. In addition they are an excellent source of omega 3 and omega 6 essential fats and have high levels of vitamin E, a powerful antioxidant (5).
Eat Brazil nuts – Brazil nuts are among the richest food sources of selenium. They also contain good amounts of magnesium and zinc and have anti-inflammatory and anti-oxidant effects (6).
Live longer – nut consumption is associated with a reduced risk of mortality from all causes! Nuts appear to be protective against cardiovascular disease, type 2 diabetes, inflammation and many types of cancer. This seems to hold true even in countries where nut consumption is not combined with other aspects of a healthy lifestyle (7,8).
Replace snacks with nuts – Other research has found that giving adults and children almonds or almond butter every day improves the overall quality of their diets. The addition of almonds means that consumption of sugary and salty snacks is reduced and, being rich in protein, healthy oils, calcium and magnesium, the overall nutrient content of the diet improves (9).
Combine fruit and nuts – Many Christmas desserts, puddings and snacks contain both dried fruit and nuts. Research suggests that combining the two is a good way to improve overall nutritional intake and reduce the risk of many chronic diseases (10). Between them fruit and nuts supply protein, carbohydrates, healthy fats, vitamins, minerals, antioxidants and fibre.
These cookies are a perfect gift being gluten free, vegan and low in sugar, not to mention combining the benefits of fruit, nuts and chocolate.
Almond Fig Cookies
Ingredients
3 tbsp almond butter
3 tbsp coconut oil
3 tbsp maple syrup
½ tsp of vanilla extract
1 cup of dried figs, chopped into small pieces
1 cup of almonds, toasted
1 ½ cups tapioca flour
1 cup ground almonds
¼ tsp of salt
Cacao nibs, toasted almonds or glacé cherries to decorate
Method
Melt the almond butter and coconut oil together in a pan. Add the maple syrup, the vanilla extract and the chopped figs. Turn off the heat and leave the figs to soak in the oil for at least 30 minutes.
Preheat the oven to gas mark 4/180C and line a baking tray with baking parchment
Roughly chop the toasted almonds and transfer them to a bowl.
Add the tapioca flour, ground almonds and salt to the chopped almonds.
Stir the melted ingredients into the dry ingredients and mix well until the mixture holds together in a thick dough. If the mixture is too wet add some more tapioca or almond flour.
Shape the mixture into round balls and flatten slightly before placing on the baking tray.
Press cacao nibs, almonds or cherries into the top of each cookie then bake in the oven for 15 minutes until just set. Leave to cool on a cooling rack.
Once cool store in an air tight container.
See also the blog posts on Honouring the Rhythm of the Year and Ethical Gift Giving for ideas on how to show you love someone without destroying our beautiful planet.
References
2018 Nov 3;10(11). pii: E1645 Potential Prebiotic Properties of Nuts and Edible Seeds and Their Relationship to Obesity. Sugizaki CSA, Naves MMV.
Anaerobe. 2014 Apr;26:1-6. doi: Prebiotic effects of almonds and almond skins on intestinal microbiota in healthy adult humans. Liu Z, Lin X, Huang G, Zhang W et al.
J Am Heart Assoc. 2015 Jan 5;4(1):e000993. Effects of daily almond consumption on cardiometabolic risk and abdominal adiposity in healthy adults with elevated LDL-cholesterol: a randomized controlled trial. Berryman CE, West SG, Fleming JA, et al.
Nutr J. 2015 Jun 28;14:64. Tree Nut consumption is associated with better adiposity measures and cardiovascular and metabolic syndrome health risk factors in U.S. Adults: NHANES 2005-2010. O'Neil CE, Fulgoni VL, Nicklas TA.
Nakanishi, Y. Chen, V. Qendro, S. Miyamoto, E. Weinstock, G. M. Weinstock, D. W. Rosenberg. Effects of walnut consumption on colon carcinogenesis and microbial community structure. Cancer Prev Res. 2016 Aug; 9(8):692-703.
Food Res Int. 2017 Oct;100(Pt 2):9-18. Brazil nuts: Nutritional composition, health benefits and safety aspects. Cardoso BR et al.
Int J Epidemiol. 2016 Mar 5. Nut consumption and total and cause specific mortality: results from the Golestan Cohort Study. Eslamparast T, Sharafkhah M, Poustchi H et al.
Am J Clin Nutr. 2016 Sep;104(3):722-8. Associations between nut consumption and inflammatory biomarkers. Yu Z, Malik VS, Keum N, Hu FB et al.
Nutr Res. 2016 Jan;36(1):80-9. Diet quality improves for parents and children when almonds are incorporated into their daily diet: a randomized, crossover study. Burns AM, Zitt MA, Rowe CC et al.
Nutr J. 2016 Mar 5;15:23. Pairing nuts and dried fruit for cardiometabolic health. Garughi A, Feeney MJ, Kris-Etherton P et al.