Green Dreams Recipes
April 20th, 2022
|
Posted in
Recipes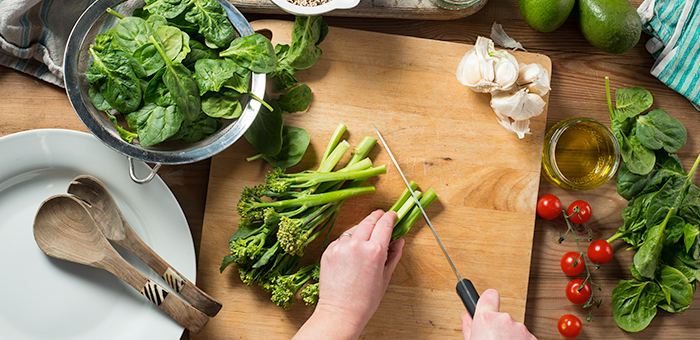 If you've read the blog posts Why to Go Green and How to Go Green you might be keen to get started on upping your intake of green foods. Here are some ideas to get you going. Feel free to experiment with other green foods.
Green Smoothie Breakfast Bowl Recipe
50g baby spinach
1 avocado, peeled, stoned and cut into pieces
1 ripe pear, cored and cut into pieces
125g natural yoghurt (soy or coconut)
½ cup of almond milk (optional)
100g mixed berries
2 tbsp hulled hemp seeds
METHOD
Put the spinach, avocado, pear and yoghurt into a blender and blend until smooth. Add almond milk if needed to get the desired consistency.
Divide between 2 bowls and top with mixed berries and hemp seeds.
---
Spicy Kale, Pea and Coriander Soup Recipe
2 tbsp coconut oil
2 cloves of garlic, finely chopped
¼ tsp cayenne pepper
1 tbsp curry powder
200g frozen peas
1 litre of boiling water or stock
500g kale, chopped
1 bunch of coriander
1 lemon, zested and juiced
2 tbsp flaked almonds, lightly toasted
Salt and pepper
METHOD
Heat the oil in a large saucepan. Add the garlic, cayenne and curry powder and cook for a couple of minutes, stirring regularly.
Add the frozen peas and the water or stock. Bring to the boil, cover with a lid and cook for a couple of minutes.
Stir in the kale, cover and cook for 5 minutes.
Blend until smooth. Add the coriander, lemon juice and zest and season with salt and pepper.
Ladle into bowls and sprinkle with flaked almonds.
---
Spring Greens and Tempeh Stir Fry with Tahini Sauce Recipe
2 tbsp olive oil
200g tempeh, cut into 1cm cubes
1 tbsp mustard seeds
2 cloves of garlic, finely chopped
2 tsp root ginger, grated
200g purple sprouting broccoli florets
1 spring cabbage, finely shredded
1 tbsp tamari soy sauce
3 tbsp tahini
Juice of half a lemon
Salt and pepper
METHOD
Heat 1 tbsp oil in a wok or large frying pan and add the tempeh. Cook for a couple of minutes stirring regularly. Transfer to a dish and cover.
Add another tbsp of oil to the pan along with the mustard seeds, garlic and ginger. Cook for a minute.
Add the broccoli, cabbage and tamari and a dash of water. Cover and cook for 5-10 minutes. Return the tempeh to the pan and cook for a minute.
Put the tahini in a small jug or cup with the lemon juice. Stir in small amounts of water until you have a pouring consistency.
Drizzle the tahini sauce over the stir fry.