Healthy Home Made Valentine's Treats
February 12th, 2018
|
Posted in
Recipes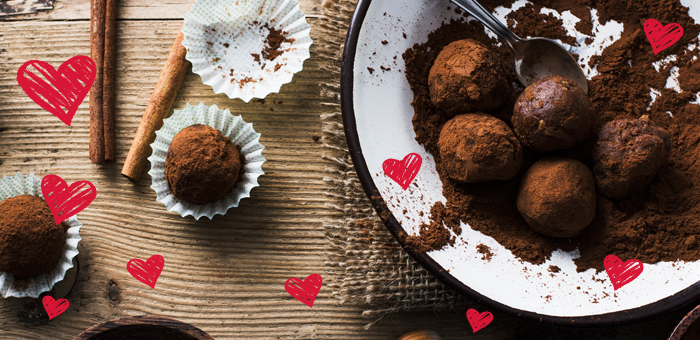 Valentine's chocolates are everywhere and most of them are not particularly good for the heart, even if they are sent from the heart. Here are some healthier treats that are both heart warming and heart healthy. Some contain small amounts of sugar or optional sweetness so you can tailor them to your own, or your loved one's, tastes. They are perfect treats at any time of year and for any celebration.
Chocolate Almond Truffle Bites
1 cup of oats
3 heaped tbsp almond butter
1 cup of dried figs, chopped
2 tbsp cacao powder
2 tbsp coconut oil
Blend all the ingredients together in a food processor until you have a thick dough.
Shape into bite sized truffles and put in petit-fourre cases.
Store in an air tight containter in the fridge until needed.
Chocolate Mint Mousse Ice Cream
2 ripe avocados, pitted and peeled
2 tbsp cacao powder
1 cup of coconut cream
½ tsp peppermint extract
Stevia, xylitol or maple syrup to taste (optional)
60g dark chocolate, finely chopped or grated
In a food processor combine the avocados, cacao powder, creamed coconut, peppermint and sweetener of choice if using. Blend until smooth.
Stir in half of the dark chocolate.
Spoon the mixture into a freezer proof container and freeze until set.
Once ready to serve remove from the freezer, transfer to small serving bowls or glasses and sprinkle with the remaining chocolate.
Carob Hazelnut Fudge
2 tbsp coconut oil
Carob powder
2 tbsp tahini
2 tbsp hazelnut butter
Pinch of sea salt or rock salt
15 drops of liquid stevia
1 tbsp maple syrup (optional)
2 tbsp hazelnuts, roasted
Line a freezer proof dish with greaseproof paper or baking parchment.
Gently heat the coconut oil, carob powder, tahini, hazelnut butter and salt in a small pan stirring constantly until all the ingredients have melted together.
Remove from the heat and stir in the stevia and maple syrup. Stir well.
Press the fudge into the lined dish and decorate with the roasted hazelnuts.
Cover and refrigerate for at least 2 hours to firm up. To speed up the process put it in the freezer.
Cut into squares before serving.