Join us for an Organic Break this September
To celebrate Organic September we are inviting you to join us in trying something new.
On Thursday 15th September you are invited to visit either of our Healthfood stores in Kingston or Guildford to enjoy a cup of organic coffee, tea, herbal tea or coffee substitute on us.
Our friendly Food for Thought staff along with representatives of organic brands will be on hand to discuss the benefits of organic as well and handing out the delicious free samples. There will be a selection of organic treats, biscuits and cakes to enjoy along with your drink.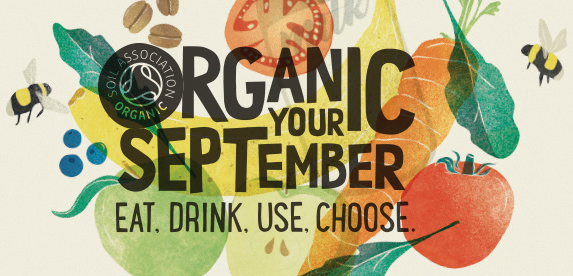 Going organic is easier than you might think – explore the organic options for your everyday groceries and learn about why organic is better for you and better for the environment.
This year we are again supporting the 'Organic your September' campaign so look out for the logo to be sure that you are not only helping to protect our vital wildlife and reducing your exposure to potentially harmful pesticides and chemicals – you will also be helping the farmers who work hard to grow our food for generations to come.
Organic means higher levels of animal welfare, lower levels of pesticides, no manufactured herbicides or artificial fertilisers and more environmentally sustainable management of the land and natural environment – this means more wildlife!
You can read more about Organic September at soilassociation.org
Find out more about our Organic September event.