Marvellous, Magical Chia Seeds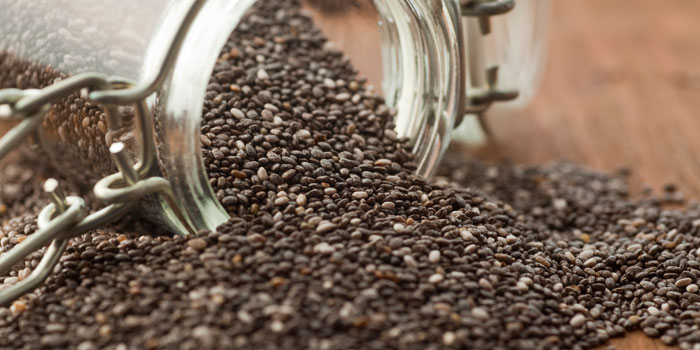 Chia seeds have been used for centuries as both food and medicine in central and southern America. It is only relatively recently that the western world has caught on to the magic of chia seeds. Research has confirmed that chia seeds have a wide range of health promoting properties. Whether you want to lose weight, improve blood sugar control or support digestive function chia seeds could be a valuable addition to your diet. Here's what research has found:
Chia Seeds Improve Blood Sugar Control and Reduce Weight – Chia seeds have been shown to suppress appetite, aid weight loss, improve the management of type 2 diabetes, and reduce obesity-related risk factors (1). The mucilaginous and swelling properties of chia seeds slow the release of glucose from carbohydrates meaning they keep blood sugar levels stable and increase satiety for longer (2).
Chia Seeds Improve Hydration and Digestion – Chia seeds soaked in water can hold up to 12 times their own volume in water as well as having oil -retention capacities (3). The mucilaginous gel that forms when chia is soaked in water helps to lubricate and hydrate the intestines making bowel movements easier to pass. This property means chia can be used to prolong hydration in the body and to maintain electrolyte balance.
Chia Seeds Protect the Gut from Irritants – Those whose digestive systems react to certain foods may find the culprit foods are tolerated better if chia is included in the diet. Chia seeds have an extremely low allergenic potential and the mucilage they form in water coats the intestines thus providing a protective and lubricating barrier that reduces irritation of the intestines by problem foods.
Chia Seeds Protect the Cardiovascular System – Chia seeds reduce serum triglycerides (blood fats) and increase levels of beneficial HDL cholesterol (4,5).
Chia Seeds Lower High Blood Pressure – Giving patients with high blood pressure 35g (2tbsp) a day of chia flour for 12 weeks reduced their blood pressure (6).
Chia Seeds Improve Endurance – Chia seeds have been shown to be a good alternative to carbohydrate loading prior to endurance events. This allows athletes to reduce their sugar intake while increasing their omega 3 fatty acid levels. In the study 50% of the usual carbohydrate was replaced with chia seeds (7).
Chia Seeds Provide Protein – Chia seeds contain all the essential amino acids making them a good source of protein (8,9).  The protein in chia is easily digested and assimilated making it an excellent food for growth and regeneration.
Chia Seeds Provide Essential Fats – Chia seeds improve the ratio of omega 3 to omega 6 fats in the blood and raise EPA in the body (10).
Chia Seeds Provide Antioxidants – and isoflavones (11).
Let's look at how to incorporate chia seeds into your diet.
Using Chia in Cooking
Being gluten free and of low allergenic potential chia can be used in many recipes. Chia seeds remains nutritionally sound when heated to 180C/gas mark 4 in the oven so are suitable for use in baked goods. A good ratio is 3 parts flour to one part chia in baked goods.  Their thickening properties mean that ground chia seeds can be used to thicken sauces and gravies.
As an egg replacement – combine 2 tbsp of chia with a cup of water and leave it to soak for 10-15 minutes – it helps to whisk it after 5 minutes to stop it clumping. This forms a gel which can be used to replace eggs in cakes or biscuits. Adding the gel to recipes displaces calories and fat while imparting a pleasant, nutty flavour. 1 tbsp of gel replaces 1 egg.
Any liquid can be used to make the chia gel depending on what you want to use it for; water, oat or nut milk, fruit juice or stock are all suitable.
Bread – improve the nutritional content of bread by adding chia seed flour and buckwheat flour to the bread mix. Bread made with chia and buckwheat flours is higher in protein, dietary fibre, omega 3 fats and antioxidants than wheat bread. It also has fewer calories and a lower carbohydrate content (12,13) making it a healthier option than most breads. See the recipe below to get you started.
Cookies – for a sweet treat cookies made with finely ground chia seeds, oat bran and oat flour can be considered a health-promoting functional food (14).
Buckwheat Chia Poppy Seed Bread
Gluten free, dairy free
Ingredients
60g/2oz chia seeds
200ml water or almond milk
225g/8oz buckwheat flour or gluten free flour
2 tbsp poppy seeds
2 tsp baking powder
½ tsp rock salt
4 tbsp natural yoghurt (soya, cow's, goat's or sheep's yoghurt)0.
4 tbsp olive oil or melted coconut oil
Soak the chia seeds in the water or milk for 20-30 minutes.
Preheat the oven to gas mark 4/180C and line a loaf tin.
Mix together the flour, poppy seeds, baking powder and salt in a mixing bowl.
Stir the yoghurt and oil into the chia seeds then pour this mixture into the dry ingredients.
Mix well and transfer to the lined loaf tin.
Bake for 30 minutes or until the bread is firm to touch. Remove from the oven and leave in the tin for 20-30 minutes before transferring it to a cooling rack.
References
1. Eur J Clin Nutr. 2017 Feb;71(2):234-238. Comparison of flax and Salba-chia seeds on post prandial glycemia and satiety in healthy individuals: a randomized, controlled, crossover study. Vuksan V, Choleva L, Jovanovski E et al.
2. Nutr Metab Cardiovasc Dis. 2017 Feb;27(2):138-146. Salba-chia (Salvia hispanica L.) in the treatment of overweight and obese patients with type 2 diabetes: A double-blind randomized controlled trial. Vuksan V, Jenkins AL, Brissette C et al.
3. Chicco AG, D'Alessandro ME, Hein GJ, Oliva ME, Lombardo YB. Dietary chia seed (Salvia hispanica L.) rich in alpha-linolenic acid improves adiposity and normalises hypertriacylglycerolaemia and insulin resistance in dyslipaemic rats. Br J Nutr. 2009 Jan;101(1):41-50
4. Ayerza R Jr, Coates W. Effect of dietary alpha-linolenic fatty acid derived from chia when fed as ground seed, whole seed and oil on lipid content and fatty acid composition of rat plasma. Ann Nutr Metab. 2007;51(1):27-34
5. Poudyal H, Panchal SK, Waanders J, Ward L, Brown L. Lipid redistribution by α-linolenic acid-rich chia seed inhibits stearoyl-CoA desaturase-1 and induces cardiac and hepatic protection in diet-induced obese rats. J Nutr Biochem. 2011 Mar 22 (Epub ahead of print)
6. Plant Foods Hum Nutr. 2014 Dec;69(4):392-8. Chia flour supplementation reduces blood pressure in hypertensive subjects. Toscano LT, da Silva CS, Toscano LT et al.
7. Illian TG, Casey JC, Bishop PA. Omega 3 Chia seed loading as a means of carbohydrate loading. J Strength Cond Res. 2011 Jan;25(1):61-5
8. Olivos-Lugo BL, Valdivia-Lopez MA, Tecante A. Thermal and physicochemical properties and nutritional value of the protein fraction of Mexican chia seed (Salvia hispanica L.). Food Sci Technol. Int. 2010 Feb;16(1):89-96
9. J Agric Food Chem. 2013 Jan 9;61(1):193-201. Isolation and characterization of proteins from chia seeds (Salvia hispanica L.). Sandoval-Oliveros MR, Paredes Lopez O. 
10. Plant Foods Hum Nutr. 2012 Jun;67(2):105-10. Supplementation of milled chia seeds increases plasma ALA and EPA in postmenopausal women. Jin F, Nieman DC, Sha W et al. 
11. J Chromatogr A. 2014 Jun 13;1346:43-8. Phytochemical profile and nutraceutical potential of chia seeds (Salvia hispanica L.) by ultra high performance liquid chromatography. Martinez-Cruz, Paredes Lopez.
12. Justo MB, Alfaro AD, Aguilar EC, Wrobel K et al. Integral bread development with soybean, chia, linseed, and folic acid as a functional food for women. Arch Latinoam Nutr.2007 Mar;57(1):78-84
13. Food Chem. 2014 Dec 15;165:232-40. Development of gluten-free bread using tartary buckwheat and chia flour rich in flavonoids and omega-3 fatty acids as ingredients. Costantini L. Luksic L. Molinari R. et al. 
14. J Sci Food Agric. 2014 Dec;94(15):3226-33. Physical properties of sugar cookies containing chia-oat composites. Inglett GE, Chen D, Liu S.