Recipes for a Calm Christmas
December 16th, 2020
|
Posted in
Recipes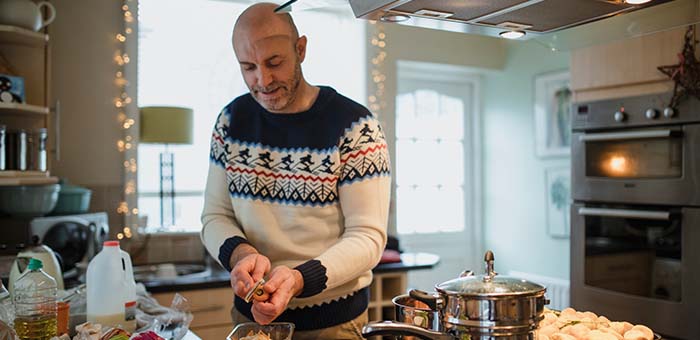 If you've read the blog posts 7 Easy Self Care Rituals and Calming Foods for a Healthy December you may be inspired to use food to improve how you feel. Below are some easy, delicious, health giving recipes to inspire you to eat well and feel well over the next few weeks.
Almond Rice Wraps
Gluten free, dairy free, vegan
The filling can be made a day in advance and stored in an airtight container in the fridge for a day.
4 tbsp of almond nut butter
2 tsp tamari soy sauce
Juice of 1 lemon
1 cup of cooked short grain brown rice
2-3 carrots – grated
1 cup of alfalfa sprouts
Salt and pepper
1 romaine or 2 little gem lettuces, separated into leaves
Mix the almond butter with the tamari and most of the lemon juice.
Slowly stir in 100 ml of water until all the ingredients are combined. Add more water if necessary to create a creamy consistency.
Combine the rice, grated carrot and alfalfa sprouts in a bowl. Sprinkle with the rest of the lemon juice and season with salt and pepper.
Put spoonfuls of the mixture into each lettuce leaf and eat immediately!
---
Roasted Root Vegetables with Almond or Tahini Sauce
Serving an almond or tahini sauce with left over vegetables is a good way of giving them another lease of life. If you don't have any left over roasties it's worth making some just to enjoy the sauce. The sauce will keep for a few days in a covered container in the fridge.
Gluten free, dairy free, vegan
For the vegetables
Use any seasonal vegetables but here are some ideas:
1 winter squash eg: butternut or crown prince, deseeded and cut into large chunks
1 swede, peeled and cut into large chunks
1 celeriac, peeled and cut into large chunks
4 beetroot, washed and cut into large chunks, or leave whole if they are small
4 parsnips, peeled and cut into chunky batons
4 carrots, cut into chunky batons, or leave whole if small
2 sweet potatoes, peeled and cut into large chunks
4 tbsp olive oil
2 tbsp tamari soy sauce
Salt
A few sprigs of rosemary and thyme
For the sauce
2 tbsp olive oil
2 tsp ginger, finely chopped
1 clove of garlic, finely chopped
Pinch of cayenne pepper
4 tbsp almond butter or tahini
Juice of 1 lemon
1 tbsp miso
Approximately 2 cups of water
Salt and pepper
Spread the vegetables out onto baking trays. Drizzle with olive oil and sprinkle on the salt. Mix well. Scatter the rosemary and thyme on top.
Roast the vegetables on gas mark 7/220C for 50 minutes, giving them a stir half way through. If you are not using a fan oven swap the trays that are on the lower shelf with the ones on the top shelf half way through.
Meanwhile make the sauce; Heat the oil in a pan, add the ginger and cook for a couple of minutes.
Add the garlic and cayenne and cook for another minute.
Add the almond butter or tahini, lemon juice, miso, and ½ a cup of water. Stir well until all the ingredients are combined..
Add more water gradually and continue stirring until you have a smooth pourable sauce. Season with salt and pepper.
Once the vegetables are cooked serve them drizzled with the sauce.
---
Chestnut, sweet potato and hazelnut cutlets
These can be served as a starter, side dish or main meal with roasted vegetables and lashings of gravy or tahini sauce.
Gluten free, dairy free, vegan
Serves 2-4 depending on whether they are a main course or starter.
225g/8oz vacuum packed chestnuts
1 sweet potato – peeled and cooked (either baked or steamed)
3 tbsp hazelnut butter
1 tbsp tamari soy sauce
1 clove of garlic, finely chopped
2 tsp mixed herbs
¼ tsp cayenne pepper
1 tbsp olive oil
Put the chestnuts into the food processor with the S blade. Blend briefly.
Add the sweet potato, hazelnut butter, tamari, garlic, herbs and cayenne. Blend again. If the mixture is a bit dry add a tbsp of water.
Divide the mixture into balls and flatten into rounds about 2cm thick.
Brush each cutlet with olive oil on both sides and place them on a lined baking tray.
Cook in the oven at gas mark 4/180C for 20-25 minutes, turning them once, half way through.
Alternatively, fry the patties in olive oil until browned on both sides.
---
Vegan Fig, Orange and Chocolate Mousse
A couple of ripe avocados can be used in this recipe instead of the tofu if preferred.
Gluten free, dairy free, vegan
Serves 4
110g/4oz of soft dried figs
Juice and zest of 1 large orange
½ cup of water
400g block of silken tofu
4 tbsp cacao powder
2 tbsp maple syrup
2 tbsp toasted flaked almonds
2 tbsp icing sugar
Remove the small stalk from each fig. Chop them roughly and put them in a pan with the orange juice and zest and water and cook with the lid on until soft. You may need to add a bit more water. Transfer to a bowl and leave to cool.
Once the figs have cooled put them in a food processor with the tofu, cacao powder and maple syrup. Blend until smooth.
Transfer the mixture to small bowls or glasses and put in the fridge.
Just before serving decorate with toasted flaked almonds and a dusting of icing sugar.