Spring Cleaning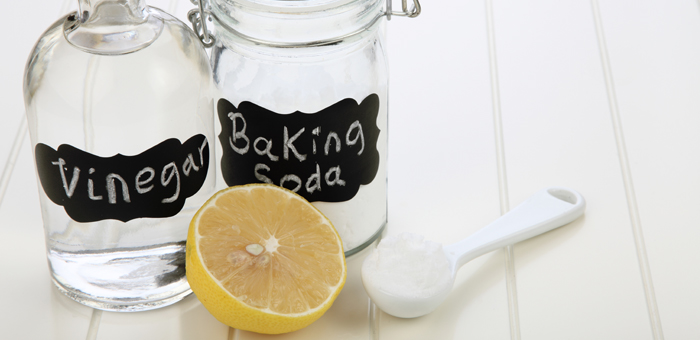 Having a really thorough spring clean is good for the mind, the body and the spirit. However, many household cleaning products are more toxic than the dirt and grime they are trying to remove. They may lead to skin problems, headaches and breathing difficulties as well as being environmentally destructive. Anti-bacterial products, such as those containing triclosan, may contribute to the development of super bugs and have a detrimental effect on the immune system. Many fragranced products contain chemicals that disrupt the immune system and hormone balance. They have been dubbed 'slow poisons' as the negative consequences of using them regularly may take years to surface (1).
Thankfully there are natural products available for cleaning from health stores. Another alternative is to make your own. It is a good way of being totally sure of what you are using in the home, and of saving money.
The main ingredients used in home made cleaning products are baking soda or soda crystals, borax, castile soap, white vinegar, lemon juice and essential oils. Essential oils should not be used on plastic or painted or varnished surfaces as they may cause damage.
A couple of spray bottles are invaluable for spritzing.
Here are a few tips for how to clean your home without risking your family's health or that of the planet:
Pan cleaner
To get pots and pans clean if they have got stained or burnt put 2 tbsp of baking soda into the pan with 1 pint of water. Bring to the boil then leave to soak. Once the water is cool enough scrub off the stains.
Cleaning cloths
Microfibre cleaning cloths enable cleaning without chemicals. They can be washed and re-used many times.
Furniture polish
Mix one part olive oil with one part vinegar. Apply to wooden furniture using a soft cloth. Test a small area first.
Windows and mirrors
Use a solution of ¼ cup of vinegar to 2 pints (1 litre) of water. Spritz this onto the glass with a spray bottle and wipe off with a soft cloth. Add a few drops of washing up liquid if the windows are really dirty. Alternatively, use a micro fibre glass cleaning cloth with water.
Blocked sink
Put ½ cup of soda crystals down the plug hole. Follow this with ½ cup of vinegar. Let it fizz for a while then pour a kettle full of boiling water down the sink to clear the debris.
Kitchen and bathroom
Sprinkle baking soda onto the sink, toilet, tiles, bath and shower and scrub off with a damp cloth or sponge. Lemon juice can also be used in this way.
Laundry
To improve the function of your washing machine put ½ cup of soda crystals into the washing machine drum with the clothes and use half the usual amount of washing powder. This is better for the clothes, the washing machine and the environment!
Copper and brass polish
Use lemon juice on a soft cloth to bring back the shine.
Air fresheners
Put a few drops of your favourite oil with some water into an oil burner.
See post on Spring Equinox Detox for tips on how to have a spring detox.
References
1. Med Hypotheses. 2017 May;102:106-111. Fragrance compounds: The wolves in sheep's clothings. Patel S