Sprouting Goodness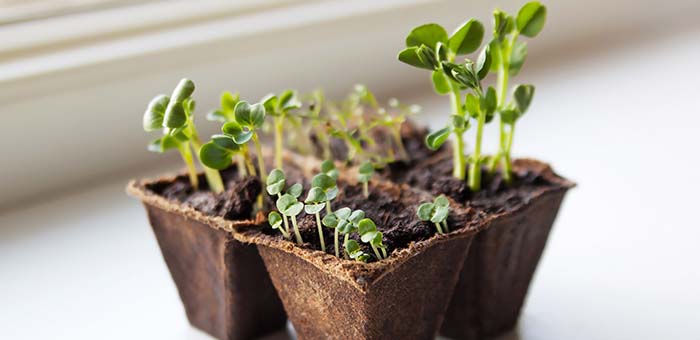 If ever there was a time to learn the joys of sprouting now is it; it's spring – a time of growth; we need to look after our health more than ever; many of us need to tighten our belts financially; and we may have more time at home to start new habits.
All seeds, pulses and grains can be sprouted but some work better than others. Once you get into it you'll find out how quick and easy it is, as well as being economical and extremely satisfying. It's especially good for those who don't have a garden or balcony as no outside space is needed.
Sprouts can be eaten raw or cooked. They can be added to salads, sandwiches and wraps, soups and stir fries. Below are just a few of the benefits of eating sprouts, instructions for how to sprout and a recipe for a superfood sprout salad.
The Health Benefits of Sprouting
Sprouts and Cancer
Broccoli and broccoli sprouts contain sulforaphane, which has been found to target the most malignant cancer stem cells, even those that are resistant to conventional cancer treatments (1,2). Mung bean sprouts have also been shown to have potent anticancer properties (3).
Sprouts and Helicobacter Pylori
Helicobacter pylori is the leading cause of stomach ulcers and is associated with an increased risk of stomach cancer. Broccoli sprouts have been shown to reduce the inflammation associated with H.pylori and may also help to reduce the risk of stomach cancer (4), making them a good way of either suppressing or modulating the side effects of H. pylori infection (5).
Sprouts and Type 2 Diabetes
The complications of diabetes can be debilitating and even life threatening. Eating broccoli sprouts with a high sulforaphane content has been shown to reduce oxidative stress, triglycerides, LDL cholesterol, insulin and C-reactive protein in type 2 diabetics all of which can help to reduce the complications of the disease (6,7).
Sprouts and Antioxidants
Increasing antioxidant intake is one of the keys to maintaining health. Sprouting seeds such as sunflower, radish, broccoli and mung beans increases their antioxidant content including total phenolic and flavanoid levels (8,9). After 8 days of germination the vitamin C content in mung beans is almost 24 times higher than their initial concentration! (10).
How to Sprout
Sprouting jars are available to buy but they are not strictly necessary as a sieve or colander works just as well.
Method 1
This method works well for whole lentils such as green, brown or puy lentils, mung beans and chickpeas. It can also be used for smaller seeds such as broccoli or radish seeds.
• Put the beans or seeds into a bowl, pan or sprouting jar and cover with plenty of water.
• Soak for 12 hours or more until the seeds or beans have swollen up. In warm conditions it's a good idea to change the soak water after a few hours.
• Rinse well and leave the seeds to drain in a sieve or colander over a bowl or in a sprouting jar with drainage holes.
• Rinse morning and evening until they start to sprout.
• They can be eaten as soon as the sprouts appear but can also be left to sprout for a few days. If sprouting micro-greens such as broccoli, wait for the green shoots to appear before eating.
• The sprouts can be stored, in a covered container in the fridge. Rinse well before using.
Method 2
Sprouting microgreens in a seed tray
This method works well for broccoli or kale sprouts, cress, radish sprouts and pea shoots. You'll need a seed tray, gravel tray and some seed compost.
• Put the seeds into a bowl or jar and cover with plenty of water.
• Soak for 12 hours or more until the seeds or beans have swollen up. In warm conditions it's a good idea to change the soak water after a few hours.
• Rinse well.
• Put the seed tray in the gravel tray. Spread the soil out in the seed tray – the seed tray should have holes in the bottom for drainage into the gravel tray below.
• Sprinkle the soaked seeds evenly over the soil. Cover with a thin layer of soil.
• Water using a watering can with a fine rose or spritz with a spray bottle to moisten.
• Leave in a warm place and keep watered.
• In a few days the sprouts will start to appear.
• Leave them to sprout for a few days.
• Harvest by snipping with scissors, ideally just before you want to eat them.
Here's a recipe to get you started:
Sprout Delight
Gluten free, vegan, raw and packed with nutrients!!
1 cup of green lentil sprouts
½ cup of mung bean sprouts
1 cup of broccoli sprouts
½ cup of soaked and rinsed almonds
2 tbsp goji berries
2 beef tomatoes, chopped
2 tbsp coriander, chopped
Dressing
2 tbsp lemon or lime juice
2 tbsp tahini
1 clove of garlic, finely chopped or crushed (optional)
4 tbsp olive oil
2 tsp tamari soy sauce
2 tbsp Yeast flakes (optional)
Salt and pepper
• Combine the sprouts, almonds, goji berries, tomatoes and coriander in a bowl.
• To make the dressing; Mix together the lemon or lime juice, tahini, garlic, olive oil and tamari and pour over the salad. Mix well to combine the ingredients.
• Sprinkle on the yeast flakes and season with salt and pepper according to taste and stir.
See also blog post on Anti-viral Help Mates for information on herbs, essential oils and other agents with anti-viral properties. The blog post Spring Cleaning Naturally explains how to save money and protect the environment by making your own cleaning products.
---
References
1. Future Oncol. 2013 Aug;9(8):1097-103. doi: 10.2217/fon.13.108. Targeting cancer stem cells with sulforaphane, a dietary component from broccoli and broccoli sprouts. Li Y, Zhang T.
2. Wien Med Wochenschr. 2013 Feb;163(3-4):80-8. doi: 10.1007/s10354-012-0163-3. Epub 2012 Dec 7. Sulforaphane and related mustard oils in focus of cancer prevention and therapy. Herr I, Lozanovski V, Houben P et al.
3. BMC Comp Altern Med. 2012 Nov 5;12:208. Novel molecular, cytotoxical, and immunological study on promising and selective anticancer activity of mung bean sprouts. Hafidh RR, Abdulamir AS, Bakar FA et al.
4. Phytother Res. 2012 Nov;26(11):1620-5. Using food to reduce H. pylori-associated inflammation. Keenan JI, Salm N, Wallace AG, Hampton MB.
5. J Dig Dis. 2008 Aug;9(3):129-39. Phytoceuticals: mighty but ignored weapons against Helicobacter pylori infection. Lee SY, Shin YW, Hahm KB.
6. J Med Food. 2013 May;16(5):375-82. Potential efficacy of broccoli sprouts as a unique supplement for management of type 2 diabetes and its complications. Bahadoran Z, Mirmiran P, Azizi F.
7. Int J Food Sci Nutr. 2012 Nov;63(7):767-71. Effect of broccoli sprouts on insulin resistance in type 2 diabetic patients: a randomized double-blind clinical trial. Bahadoran Z, Tohidi M, Nazeri P, Mehran M et al.
8. J Sci Food Agric. 2013 Nov 6. Metabolomic analysis of the polyphenols in germinating mung beans (Vigna radiata) seeds and sprouts. Tang, D, Dong Y, Guo N, Li L, Ren H.
9. Food Chem. 2014 Jan 15;143:300-6. Phenolic profile and antioxidant activity in selected seeds and sprouts. Pajak P, Socha R, Galkowska D, et al.
10. J Agric Food Chem. 2012 Nov 7;60(44):11050-5. Effect of germination on phytochemical profiles and antioxidant activity of mung bean sprouts (Vigna radiata) Guo X, Li T, Tang K, Liu RH.