Supplements for the Home Medicine Kit
September 16th, 2019
|
Posted in
Info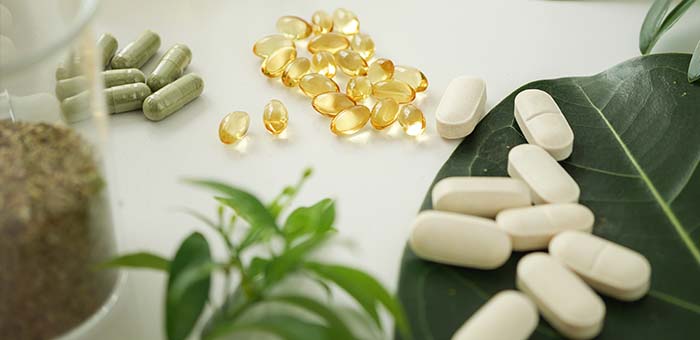 During times of illness or injury the body's need for certain nutrients increases. Sometimes absorption is decreased and the appetite may wane. This is where supplements can be invaluable in making up the shortfall and speeding healing. See the posts on Herbal Remedies and Essential Oils for more ideas.
Immune Support
Vitamin C with bioflavanoids – vitamin C has powerful anti-oxidant effects that support the immune system as well as enhancing the effects of other anti-oxidants. Take as soon as you feel a cold coming on or use regularly as a preventative. It has been shown to reduce the duration and severity of colds.
Vitamin D – aids the immune system and fights infections. It's especially important to take vitamin D3 with K2 during the winter when it's not possible to make it from sunlight.
Vitamin E – taken internally vitamin E is a powerful antioxidant that speeds healing. It can also be applied topically to reduce scarring; pierce a vitamin E gel capsule and squeeze the oil onto the skin. Rub in and let it do its healing work.
Zinc – works well alongside vitamin C to stave off and reduce the severity of colds and bugs. Zinc aids healing from injury and is particularly needed during times of stress when requirements increase. Zinc lozenges can be taken for sore throats.
Stress Support 
Magnesium – relaxes the muscles and nerves so is useful during times of stress when needs are greater. May aid sleep during bouts of insomnia. Paradoxically magnesium is also needed for energy production so can help with fatigue. Epsom salts, or magnesium sulphate, can be added to the bath for a relaxing soak.
Digestive Support
Activated charcoal – a cleansing agent that can help remove toxins and gases from the intestines. Useful during digestive upsets and diarrhoea. Do not take long term as it may remove nutrients from the body.
Electrolytes – following a bout of sickness or diarrhoea it's important to replenish the body with electrolytes, particularly sodium and potassium. Sodium is easy to get from salt. Potassium is found in fruit, vegetables, lentils and beans but supplements may be needed in the short term if it is severely depleted. Electrolyte powders are available from health stores. Mix them with water and drink to re-hydrate and replenish the body.
Probiotics – useful for replenishing the gut with good bacteria. This is especially important during or after diarrhoea, or after taking antibiotics.
Psyllium powder – this is a mucilaginous fibre that can help with some cases of diarrhoea and constipation. It's important to drink plenty of fluids when taking psyllium as it swells up in the digestive tract and acts as a broom to sweep out the intestines. It may make constipation worse in some people so should be taken in small amounts initially to assess its effects.
Urinary Tract Support
Cranberry – cranberry juice is useful in the treatment of urinary tract infections such as cystitis. Avoid the sweetened cranberry juices that are widely available and look for one that is pure cranberry juice. Alternatively, cranberry is available in supplement form. If you are prone to cystitis it's a must for the home medicine kit.
Cold Sores
L-lysine – take with vitamin C at the first tingling of a cold sore. L-lysine cream can also be applied to the area.