Vegetable Recipes
July 24th, 2020
|
Posted in
Recipes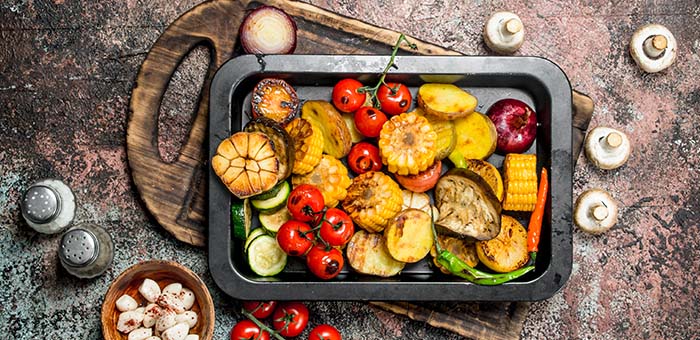 If you've read the blog posts We Need to Talk about Vegetables and How to Fall in Love with Vegetables you'll be raring to get going. Here are some delicious recipes to help you enjoy vegetables every day of the week.
Buckwheat, Hazelnut, Roasted Courgette and Red Pepper Salad
Gluten free, dairy free, vegan
Serves 4
4 courgettes, sliced
2 red peppers, cut into slices
3 tbsp olive oil
3 tbsp tamari soy sauce
½ cup of hazelnuts
1 cup of buckwheat groats
1¾ cups of water
4 tomatoes, chopped into segments
Salt and pepper
1 tbsp lemon juice
Preheat the oven to gas mark 7/220C or 200C for fan ovens.
Spread the courgettes and peppers out onto baking trays, drizzle with oil and tamari and put in the oven.
Give them a stir after 20 minutes and return to the oven for another 20-30 minutes until soft.
Spread the hazelnuts onto a baking tray and roast in the oven for 8 minutes until just crunchy.
Put the buckwheat in a pan with the water and ½ tsp of salt. Bring to the boil, cover and simmer until all the water has been absorbed – about 10-15 minutes.
Once cooked transfer the buckwheat to a large salad bowl and leave to cool.
When the peppers and courgettes are cooked stir them into the buckwheat.
Once the buckwheat and vegetables have cooled down combine them with the tomatoes and hazelnuts.
Season with salt and pepper and drizzle on the lemon juice.
Smoky Sweet Potato, Pumpkin Seed and Rocket Salad
Gluten free, dairy free and vegan
Serves 4
4 medium sweet potatoes, peeled and chopped into bite sized pieces
4 tbsp of pumpkin seeds
Large bunch of rocket, roughly chopped
150ml plain soya yoghurt or coconut yoghurt
2 tsp whole grain mustard
1 tsp apple cider vinegar
2 tsp olive oil
1 tsp smoked paprika
Salt and pepper
Steam the sweet potatoes until just tender – this will take about 8-10 minutes.
Once cooked transfer the potatoes to a bowl and leave to cool.
Spread the pumpkin seeds onto a baking tray and toast in the oven on gas mark 6/200C for 10 minutes. Once cooked remove from the baking tray and leave to cool.
Combine the cooled sweet potatoes and seeds and gently mix in the rocket. Season with salt and pepper.
Make the dressing by combining the olive oil and vinegar in a jug. Stir in the yoghurt, mustard and of smoked paprika and mix well.
Drizzle the dressing over the sweet potatoes and combine gently with a large spoon.
Vegetable Tagine
Gluten free, can be vegan and dairy free
3 tbsp olive oil
1 red onion, finely chopped
2 cloves of garlic, finely chopped
1 tsp ground coriander
1 tsp ground cumin
1 tsp ground cinnamon
2 courgettes, sliced
1 aubergine, sliced
1 small butternut squash, peeled, de-seeded and chopped into bite sized pieces
1 small cauliflower, cut into florets
100g dried apricots, cut into quarters
500ml tomato passata
1 can of chickpeas, drained
2 tbsp of harissa paste
2 tbsp date syrup or pomegranate molasses
½ cup of cashew nuts, toasted
Salt and pepper to taste
Sour cream, crème fraiche or natural yoghurt to serve (use soya or coconut yoghurt for dairy free version)
Heat the oil in a large saucepan and sauté the onion until it is soft. Add the garlic, coriander, cumin and cinnamon and cook for a few minutes.
Stir in the courgettes and aubergines. Cook for 10-15 minutes, stirring every now and then.
Add the squash and cauliflower, apricots, passata, chickpeas, salt and pepper. Cover and simmer for about 20-30 minutes until the vegetables are tender.
Stir in the harissa paste, date syrup and cashew nuts.
Serve with couscous, rice or crusty bread and a dollop of sour cream, crème fraiche or natural yoghurt.
Roasted Vegetables with Satay Sauce
Gluten free, dairy free, vegan
For the vegetables
1 butternut squash deseeded and cut into large chunks
1 swede, peeled and cut into large chunks
2 beetroot, peeled and cut into quarters
2 parsnips, peeled and cut into chunky batons
4 carrots, cut into chunky batons, or leave whole if small
4 tbsp olive oil
Salt
A few sprigs of rosemary and thyme
For the Satay Sauce
2 tbsp sesame oil
2 tsp ginger, finely chopped
1 clove of garlic, finely chopped
¼ tsp of cayenne pepper
4 tbsp smooth peanut butter
Juice of 1 lime
2 tbsp tamari
Approximately 2 cups of water
Spread the vegetables out onto baking trays. Drizzle with olive oil and sprinkle on the salt. Mix well. Scatter the rosemary and thyme on top.
Roast the vegetables on gas mark 7/220C for 50 minutes, giving them a stir half way through. If you are not using a fan oven swap the trays that are on the lower shelf with the ones on the top shelf half way through.
Meanwhile make the satay sauce; Heat the oil in a pan, add the ginger and cook for a couple of minutes.
Add the garlic and cayenne and cook for another minute.
Turn down the heat and add the peanut butter, lime juice, tamari, and ½ a cup of water. Stir well to incorporate the water into the peanut butter.
Add more water gradually and continue stirring until you have a smooth pourable sauce.
Once the vegetables are cooked serve drizzled with the satay sauce.
Vegan Beetroot and Almond Brownies
Vegan, can be gluten free
2 medium beetroot
½ cup of almonds
110g/4oz plain flour or gluten free flour
4 tbsp cocoa powder
1 tsp baking powder
½ tsp bicarbonate of soda
¼ tsp salt
¾ cup of maple syrup
½ cup of almond milk
1 tsp vanilla extract
½ cup of chocolate chips
Do not top and tail or peel the beets, just put them in a pan of water and simmer with the lid on for about 45 minutes until tender.
Spread the almonds out on a baking tray and toast in the oven for 10 minutes on gas mark 6/200C.
Run the cooked beetroot under cold water and then leave to cool for 15 minutes.
Slip the skins off the beets and purée them in a food processor. Add a bit of water if necessary.
Put the flour, cocoa powder, baking powder, bicarbonate of soda and salt into mixing bowl and stir to combine.
Roughly chop the roasted almonds and add them to the dry ingredients.
Add the maple syrup, almond milk and vanilla extract. Mix thoroughly.
Stir in the beetroot purée and chocolate chips.
Pour the batter into a lined baking dish about 25cm x 30cm. Level with a spatula.
Bake for approximately 25 minutes until just firm. They're best a bit gooey so be careful not to overcook them.
Remove from the oven and leave to cool for a few minutes on a cooling rack before cutting into squares. Serve hot or cold.