Winning Ways with Beans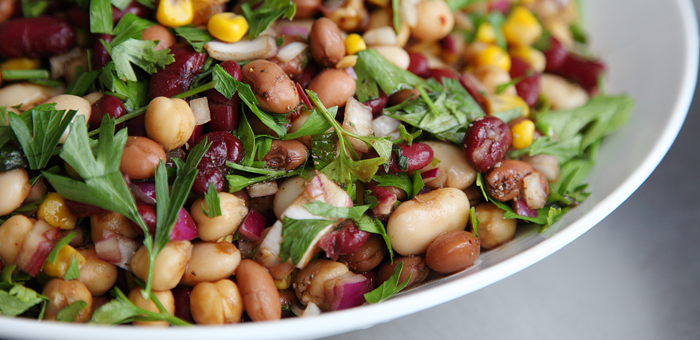 Following April's blog posts on the Benefits of Beans and Digestible Beans here are some ideas for how to incorporate beans into your diet. Pulses are so versatile they can be incorporated into more or less any meal or dish, even cakes and desserts!
Bean Burgers
In a food processor combine cooked beans with grated carrot, tahini or almond butter, roasted nuts and herbs or spices. Blend and then shape into patties. Brush with oil and bake in the oven for 20 minutes turning half way through. Alternatively fry for a few minutes on both sides. Serve with salad and salsa.
Good beans to use: chickpeas, cannellini beans, kidney beans, aduki beans.
Bean Salads
Combine cooked or canned beans with grated carrot, tomatoes, olives, fresh herbs, oil and lemon juice. Season with salt and pepper. Perfect for picnics or packed lunches.
Good beans to use: cannellini beans, kidney beans, flagelot beans, green lentils.
Bean Soups
Beans and lentils can be added to soup along with any seasonal vegetables to produce a hearty meal. They can be left whole or blended for a creamy soup.
Good beans to use: all beans work well in soups but try cannellini beans, butter beans, lentils, haricot beans and aduki beans.
Bean Dip
Blend cooked beans with tahini or nut butter, lemon juice, garlic, basil or coriander, olive oil and enough water to create the desired consistency. Use in sandwiches, wraps or as a dip with crudites.
Good beans to use: chickpeas, kidney beans, cannellini beans or butter beans.
Bean Cakes
Yes! You'll be delighted to hear that beans can be a great ingredient in cakes and baked goods. Here is a recipe for a gluten and dairy free chocolate cake using black beans.
Black Bean Chocolate Cake
6 tbsp coconut oil
85g/3oz sugar
3 eggs
1 tsp vanilla extract
1 400g can of black beans, drained
½ cup of almond milk
1 tsp baking powder
¼ tsp salt
6 tbsp cacao powder
• Preheat the oven to gas mark 4/180C
• Blend the coconut oil and sugar in a food processor until smooth.
• Add the eggs and vanilla and blend.
• Add the beans, almond milk, baking powder, salt and cacao powder and blend until all the ingredients are combined.
• Scrape the mixture into a lined cake tin, smooth the top and bake in the oven for 40 minutes or until just firm.
• Eat as it is or slice in half and fill with jam or chocolate icing. Alternatively drizzle melted chocolate over the top.
Bean Flour
It's now possible to get chickpea flour (aka gram flour) and lentil flour and products made from them such as pasta. They can be incorporated into breads, cakes and pancakes but are often best combined with other flours.
Here's a recipe for an oven baked gram flour pancake called cecina or farinata:
Coriander Cecina
1 cup of chickpea flour
1 tsp salt
1.5 cups of water
2 tbsp olive oil plus extra for oiling the dish
Black pepper
2 tbsp coriander, chopped
• In a large bowl combine the chickpea flour, salt and water. Leave to stand for at least half an hour or for several hours or overnight.
• Preheat the oven to gas mark 6/200C.
• Whisk the olive oil into the flour mixture and season with black pepper.
• Pour a liberal amount of olive oil into a shallow oven proof dish and swill it around so the base of the dish is covered.
• Heat the oiled dish in the oven for 5 minutes.
• Pour the batter into the hot dish. Sprinkle the coriander on top and bake in the oven for 20-30 minutes until just set. The timing will depend on how thick the batter is.
• Eat hot or cold as an alternative to bread or pancakes.