Go Vegan, Go Healthy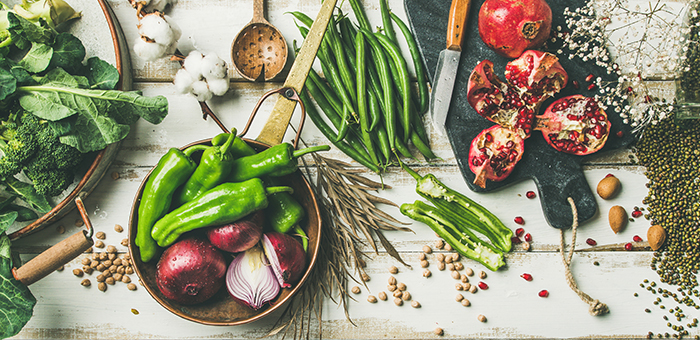 Being vegan used to be a fringe activity that was derided by most of the rest of the population. Now it is a growing trend that people are proud to be part of. Whether you are a full time vegan, a veganuary vegan, a flexitarian, a vegetarian or a dyed in the wool meat eater here is some of the latest evidence about the health effects of plant based diets. For information on the environmental benefits of a vegan diet see blog post Food Footprints, and for inspirational recipes see Tasty Vegan Recipes.
Vegan Diets and Cardiovascular Health
The primary cause of death worldwide is heart disease. Often low fat diets are used to treat heart disease but evidence shows that consuming a normal amount of fat on a vegan diet reduces the risk of cardiovascular disease. Other data shows that atherosclerosis is decreased when nuts, that are rich in fat,are added to a Mediterranean diet. These data provide evidence that coronary artery disease may be reversed with a diet containing standard levels of fat if they are from plant sources (1).
There is increasing evidence that plant based diets are associated with a lower cardiovascular risk. Two meta-analysis of over 100 studies found that vegans have a lower body mass index, a smaller waist and lower LDL cholesterol, triglycerides, fasting glucose and blood pressure than meat eaters (2).
In short, switching to a plant based diet could reduce your risk of cardiovascular and metabolic diseases (3).
Vegan Diets and Diabetes
A systematic review into research on the effects of plant-based diets in those with type 2 diabetes found that plant-based diets were associated with significant improvements in emotional and physical well-being, depression, quality of life, weight and cholesterol compared with other diets. Vegan diets are recommended to aid the management of type 2 diabetes (4).
Vegan Diets and Cancer
Vegetarians and vegans have a reduced risk of cancer. For patients with cancer minimizing the intake of animal foods has proved to have positive effects on their health outcomes. (Dinu)
Findings from the Adventist Health Study-2 (AHS-2) and the European Prospective Investigation into Cancer and Nutrition-Oxford (EPIC-Oxford) show that vegans and vegetarians have a reduced risk for all cancers and other chronic diseases compared to non-vegetarians (5).
Vegan Diets for Athletes
Based on the available literature it seems that plant-based diets are as good as omniverous diets for strength, anaerobic and aerobic exercise performance in athletes (6). As a bonus plant-based diets typically reduce the risk of developing chronic diseases and require fewer natural resources for production compared to meat-containing diets. As such, plant-based diets appear to be a good choice for athletes whilst contributing to overall physical and environmental health (7).
Possible Deficiencies
Some nutrients to pay attention to on a plant based diet and where to find them:
Omega 3 fats – pumpkin seeds, hemp seeds, flax seeds, chia seeds, walnuts, avocados and the cold pressed oils of these foods.
Iron – lentils, almonds, figs, sea vegetables, parsley, watercress, broccoli, cavolo nero, quinoa, amaranth, oats, millet, rye, blackstrap molasses, prunes, nettles.
Combine iron rich plant foods with vitamin C rich foods to improve the absorption of iron eg: peppers, citrus fruits, berries, kiwi fruits.
Zinc – pumpkin seeds, kelp, brown rice, molasses, wheat germ, pulses, tahini, peas, whole grains.
Iodine – sea vegetables such as kelp, dulse, kombu and wakame.
Calcium – green vegetables, almonds, tahini, black strap molasses, carob, dulse, figs, hazelnuts, alfalfa.
Vitamin D – sunshine! Also mushrooms that have been left on a sunny windowsill will develop vitamin D. Supplemental vitamin D may be useful through the winter.
Vitamin B12 – needs to come from supplements or fortified foods such as marmite and vegan milks etc.
References
Med Hypotheses. 2019 Jan;122:103-105. Diets with customary levels of fat from plant origin may reverse coronary artery disease. Sanchez A et al.
Crit Rev Food Sci Nutr. 2017 Nov 22;57(17):3640-3649. Vegetarian, vegan diets and multiple health outcomes: A systematic review with meta-analysis of observational studies. Dinu M et al.
Orv Hetil. 2016 Nov;157(47):1859-1865. [Plant-based diets: a review]. Szabo Z et al.
BMJ Open Diabetes Res Care. 2018 Oct 30;6(1):e000534. Effectiveness of plant-based diets in promoting well-being in the management of type 2 diabetes: a systematic review. Toumpanakis A et al.
Eur J Clin Nutr. 2018 Oct 2. Health and sustainability outcomes of vegetarian dietary patterns: a revisit of the EPIC-Oxford and the Adventist Health Study-2 cohorts. Segovia-Siapco G, Sabate J.
Nutrients. 2018 Dec 22;11(1). pii: E29. Health Status of Female and Male Vegetarian and Vegan Endurance Runners Compared to Omnivores-Results from the NURMI Study (Step 2). Wirnitzer K. et al.
2018 Dec 1;10(12). pii: E1841. Plant-Based Diets: Considerations for Environmental Impact, Protein Quality, and Exercise Performance. Lynch H et al.