Tasty Vegan Recipes
January 21st, 2019
|
Posted in
Recipes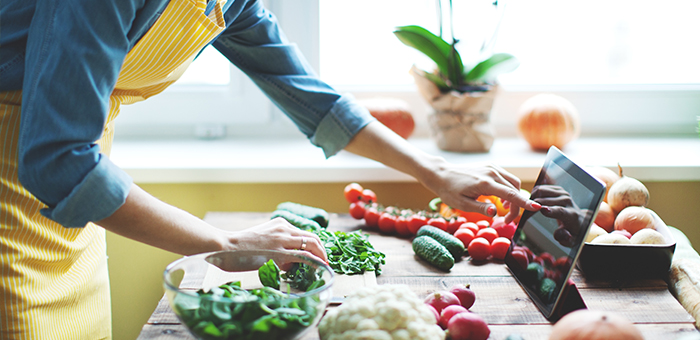 If you've read the blogposts on the health and environmental benefits of a vegan diet: Food Footprints and Go Vegan, Go Healthy, you'll be raring to get cooking up a vegan storm. Here are some mouth watering recipes to keep you healthy and inspired. All are gluten free, as well as vegan, so everyone can enjoy them.
Breakfast Pancakes
Serves 4
400g pack of silken tofu
Juice of half a lemon
400ml vegan milk (eg: almond, soya, coconut)
1 tbsp olive oil
250g buckwheat flour
2 tbsp soft brown sugar (optional)
1 tsp cinnamon
2 tsp baking powder
½ tsp salt
Coconut oil or olive oil for cooking
Put the tofu, lemon juice and half the milk into a bowl or jug and blend with a stick blender until you have a thick, smooth mixture.
Stir in 1 tbsp of oil and the rest of the milk and give it another blend.
Put the buckwheat flour, sugar, cinnamon, baking powder and salt into a bowl and mix well.
Make a well in the centre and pour in the tofu mixture. Stir well to make a thick batter.
Heat 1 tsp of coconut oil in a heavy bottomed frying pan and swirl it around to cover the base. Let the oil get good and hot before adding the batter.
Turn down to a low to medium heat add a ladleful of the batter to the pan and swirl it around. Cook for a couple of minutes until the surface starts to bubble. Check the base has set then turn the pancake over. Cook on the other side for a minute or two until the base is cooked.
Alternatively, dollop 3 spoonfuls of the mixture into the pan to make 3 small pancakes.
Transfer to a warm oven to keep warm or eat immediately.
Heat a bit more oil in the pan and repeat the process.
Serve warm with a selection of toppings: berries, apple puree, banana slices, toasted nuts, soya yoghurt or coconut yoghurt, lemon juice and maple syrup.
---
Meal in a Soup
Serves 4
2 tbsp olive oil
1 red onion, peeled and chopped
2 tsp root ginger, chopped
pinch of cayenne pepper
150g/6oz green lentils, soaked for a few hours
700ml/1.5 pint of vegetable stock or water
1 celeriac, peeled and chopped
2 parsnips, peeled and chopped
2 carrots, sliced
4 tbsp flaked almonds
2 cups of kale, stems removed and chopped
2 tbsp creamed coconut
1 tbsp miso
Salt and pepper to taste
Heat the olive oil in a pan and add the onion. Let it cook until soft, stirring occasionally.
Add the ginger and cayenne pepper cook for a few more minutes.
Drain and rinse the lentils and add them to the onions along with the vegetable stock or water. 
Bring to the boil, skim off any scum that arises, reduce the heat and simmer for 20 minutes.
Meanwhile prepare the vegetables and lightly toast the flaked almonds until they are pale brown.
Once the lentils have been cooking for 20 minutes stir in the celeriac, carrots and parsnips.
Cover the pan with a lid and simmer for about 15 minutes until the vegetables are cooked.
Add the kale and cook for a few more minutes.
Transfer a cup of liquid from the pot to a jug and combine it with the creamed coconut and miso to form a thick paste. Stir this back into the soup.
Season with salt and pepper, serve into bowls and sprinkle with toasted almonds.
Serve with green salad and sourdough bread.
---
Smokey Bean and Nut Burgers
Makes 8 burgers
1 tin of black beans, drained
1 cup of cooked buckwheat
½ cup of toasted hazelnuts, chopped
2 tbsp tahini
1 carrot, grated
1 clove of garlic, crushed (optional)
½ tsp ground cumin
1 tsp smoked paprika
pinch of cayenne pepper
Salt and pepper
2 tbsp olive oil or coconut oil for cooking
Mash together the black beans, buckwheat, toasted hazelnuts, tahini, grated carrot, garlic, cumin, paprika, cayenne and salt and pepper to taste. Mix well.
Divide the mixture into 8 pieces. Roll each piece into a ball and flatten it slightly.
Heat the oil in a heavy bottomed frying pan and fry the burgers. Turn them occasionally until they are starting to brown on both sides.
Serve in burger buns with salad, vegan mayonnaise, ketchup or mustard.
---
Blueberry (non) Cheese Cake
Crust
2 cups of almonds, soaked
1 cup of dates, chopped and soaked
1 tbsp almond butter
Cream layer
2 cups of cashew nuts, soaked for a couple of hours
Zest and juice of 1 orange
2 tbsp maple syrup
3 tbsp coconut oil
½ tsp sea salt or rock salt
½ tsp vanilla essence or seeds from 1 vanilla pod
Blueberry Topping
500g blueberries (fresh or frozen)
1 tbsp arrowroot powder
To make the crust drain and rinse the almonds and drain the dates reserving the water.
Blend the almonds, dates and almond butter together in a food processor.
Press this mixture into the bottom of a lined pie dish.
To make the cream layer drain and rinse the cashew nuts. Blend them with the zest and juice of the orange, maple syrup, coconut oil, salt and vanilla. Add some of the dates soak water if you need to thin the mixture to make a thick creamy consistency.
Scrape the cream mixture onto the crust and smooth the top.
Cover and transfer to the freezer for an hour.
Meanwhile, cook half the blueberries for a few minutes in a small amount of water.
Transfer a few spoonfuls of liquid from the blueberries into a bowl. Mix it with the arrowroot then stir this back into the blueberries. Cook for a minute or two to thicken, blend then leave to cool.
Remove the pie from the freezer and pour over the blueberry puree. Decorate with the rest of the blueberries.
Cover with a bowl and refridgerate. Remove from the fridge 30 minutes before serving.