Stock Up and Stay Calm
December 10th, 2019
|
Posted in
Info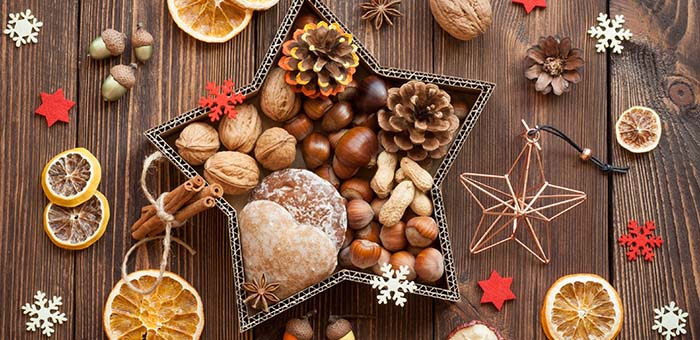 If you've read the blog posts Happy Healthy Christmas Tips and Be Prepared! you'll have some ideas for how to ease the pressure over Christmas. It's also a good idea to have a few well chosen ingredients in stock so that you, or someone else, can rustle up quick, easy, delicious meals without too much bother. Below are a few ideas for the shopping list. All store well so can be used in the New Year if not needed over Christmas.
A selection of nuts. Have some in their shells for guests to tuck into and have some ready shelled for adding to salads, or bakes. Ideally toast them in advance and store in jars.
Tamari seeds – these make a tasty snack or a crunchy addition to salads. Buy them ready made or toast seeds and sprinkle on the tamari while still hot.
Cooked chestnuts – available as whole chestnuts or chestnut puree. Both can be used in sweet or savoury dishes.
Dried fruit – medjool dates, apricots, figs, dried apple and dried berries can all be eaten as snacks or used in desserts or treats.
Coconut milk or creamed coconut – a quick way to add depth and flavour to soups, stews, curries or sauces. They both keep well in the cupboard if not used.
Oils – it's worth having some special oils to jazz up salad dressings. Try hazelnut oil, almond oil, toasted sesame oil, pumpkin seed oil, avocado oil, coconut oil and walnut oil along with the staple olive oil.
Frozen peas – as well as frozen broad beans and edamame beans, can be quickly cooked and blended into a soup or added to salad or stews.
Frozen berries – excellent for making a quick crumble or a special breakfast porridge or muesli.
Nut and seed butters – can be used as spreads on toast or crackers or made into a sauce or dip with the addition of water, lemon juice, tamari and maybe some garlic or herbs. Try almond butter, pumpkin seed butter, tahini, hazelnut butter and cashew nut butter.
Canned pulses – dried pulses are great, but if it's always worth having cans of ready cooked beans and lentils in the cupboard. They can be added to soups, stews, casseroles and dips, and being gluten free and vegan will be suitable for most people.
Flavourings – herbs and spices are must haves for any store cupboard. Other ways to add flavour include miso, tamari, sea vegetables, mustard, tomato puree and lemons or lemon juice.
Non-alcoholic drinks – such as coconut water, fruit punch and elderflower cordial will ensure that everyone can enjoy a drink.