Bring Back the Ancients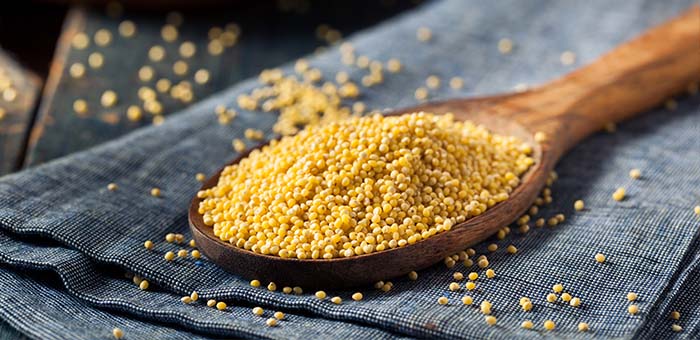 Since the 1940s there has been a massive global production boost in three grain crops; wheat, maize, and rice. This has been at the expense of other ancient grains. This may be set to change. One of the leading strategies for sustainable agriculture is to unlock the potential of underutilized crops with a focus on ancient cereals and pseudo-cereals. These include amaranth, buckwheat, quinoa, teff, and millet, all of which are riding on the gluten-free trend.
Having been centuries-old staples in their native countries they are now being investigated for their potential role and significance in today's rapidly changing world (1). Each of these crops has demonstrated tolerance to various stress factors such as drought, heat and pests.  They are rich in protein, fibre and nutrients making them part of a long term viable solution for a sustainable food supply (2).
Focus on Millet
Varieties of millet were cultivated around 3000BC during the Indus Valley civilisation. Millet was a staple food for many Indians for centuries with region specific millets being part of the local food culture and religious rituals.
In 2018 India celebrated 2018 as Year of Millets and the United Nations has accepted Delhi's proposal to celebrate 2023 as the International Year of Millets. This will raise awareness about the health benefits of millet as well as its potential as an important sustainable food crop at a global level due to its ability to flourish in harsh climatic conditions. It is drought, heat and pest resistant and can grow in degraded soils (2). These are important factors at a time when the world is confronted with the spectre of climate change. In particular it could have significant economic and health impacts on developing countries.
The Health Benefits of Millet
Millet is a good source of insoluble dietary fibre, beneficial lipids, minerals and phenolic acids. The glycaemic index of millet is between 42 and 58 making it a valuable low GI food (3).
Millet has potential prebiotic and probiotic properties with the prospective health benefits that these bring (2).
Millet is good for the planet, good for the farmer due to its resilience, and good for the consumer being nutritious, low glycaemic, rich in minerals and gluten free.
See blog posts on Bitter Sweet and Food Swaps for the Planet for more food for thought on what's good for you and good for the planet.
If you feel inspired to include millet in your diet try this delicious, nutritious vegan bake.
Millet, Mushroom and Hazelnut Bake
Gluten free, dairy free, vegan
Serves 4
3 tbsp olive oil
1 onion, finely chopped
2 cloves of garlic, peeled and finely chopped
250g/9oz mushrooms, chopped
225g/8oz millet
750ml of water
2 tsp mixed herbs
3 tbsp tahini or peanut butter
1 tbsp tamari soy sauce
Juice of ½ a lemon
½ cup of hazelnuts, toasted and roughly chopped
Salt and freshly ground black pepper
2 tbsp pumpkin seeds
2 tomatoes, sliced
Sauté the onion in the olive oil until Add the garlic and mushrooms and cook for 10 minutes.
Meanwhile heat a dash of olive oil in a pan and add the Stir the millet to coat it in the oil and cook for a few minutes. Add the water, herbs and ½ tsp of salt, bring to the boil, cover and simmer until all the water has been absorbed – about 15-20 minutes.
In a bowl or jug combine the tahini or peanut butter with the tamari and lemon juice and enough water to create a pouring consistency.
Once the millet is cooked combine it with the mushrooms, onions and tahini sauce. Stir in the hazelnuts and season with salt and pepper
Transfer the mixture to an oiled, shallow, oven proof dish and sprinkle on the pumpkin Decorate with the tomato slices.
Bake at gas mark 5/190C for about 30 minutes until the seeds are starting the colour and the tomatoes are sizzling.
Serve with a green salad or steamed green vegetables. 
---
References
1. Plant Sci. 2018 Apr;269:136-142. Review: Shaping a sustainable food future by rediscovering long-forgotten ancient grains. Cheng A.
2. J Food Biochem. 2019 Jul;43(7):e12859. Nutritional and functional roles of millets-A review. Nithiyanantham S et al.
3. Int J Food Sci Nutr. 2019 Sep;70(6):714-724. Characterisation of several types of millets as functional food ingredients. Bora P et al.