Food Swaps for the Planet
February 7th, 2022
|
Posted in
Info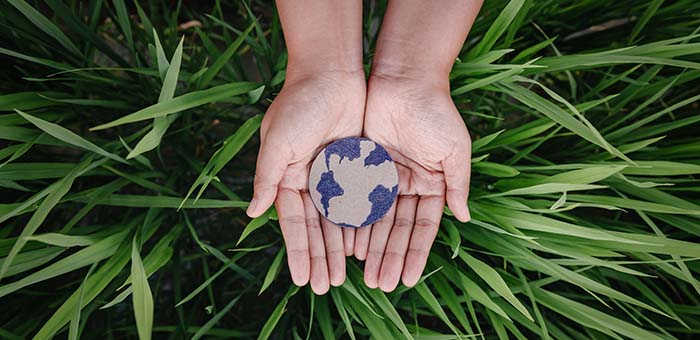 The role of diet in human health is well established. In the past decade, there has been a growing acceptance that what we eat also has a profound impact on the health of the environment. Agriculture accounts for about 25% of global greenhouse gas emissions and an estimated two thirds of the world's fresh water is used for irrigation of crops. Half of the world's habitable land is used for agriculture which has led to a 60% loss of biodiversity (1). There is no doubt that what we eat has a significant impact on the planet.
If you'd like to reduce your carbon footprint and improve the health of the planet making a few dietary adjustments could be a good place to start.
Researchers in the USA used real world data from a survey of over 16,000 Americans detailing what they eat in an average day to calculate how much difference it would make if they swapped one high-impact food for more sustainable options. They assessed how the change would impact the greenhouse emissions and the water footprint of their diets based on the irrigated water used to produce the foods (2).
Give Up the Beef
The food with the highest impact is beef. About 20% of the people surveyed ate at least one serving a day. If these people swapped one serving of beef for chicken or turkey each day they would reduce the greenhouse gas emissions from their diet by an average of 48% and water use by 30%.
Moreover, the researchers calculated that if those 20% of citizens switched one serving of beef a day to something more sustainable it would reduce the carbon footprint of US diets by nearly 10% and water use by nearly 6%.
Other research from the US found that it's even more environmentally beneficial, as well as being better for health, to swap all beef, pork and poultry for plant protein foods. This also reduces the cost of the diet by over 10%.
Who Will Change?
The study found that people who are potentially willing to change their diets for the sake of the planet are disproportionately women, highly educated, or had higher incomes compared with individuals deemed not likely to change.
The good news is that changes made by a small percentage of motivated individuals can reduce the national dietary global emissions at the same time as improving the health of those who make the changes (3).
Food for Thought
Whilst swapping beef for other foods has the greatest impact other changes also make a difference:
Replacing dairy milk with soy milk results in an 8% reduction in emissions.
Substituting peanuts for almonds decreases water use by 30%.
Replacing asparagus with peas uses 48% less water.
On the whole replacing animal foods with plant foods reduces both greenhouse gas emissions, land use and water use.
A Multi-Layer Strategy
Addressing climate change and habitat loss is the greatest challenge of our age and it needs to be taken on at all levels – by individuals, households, schools, hospitals, businesses, governments and international agencies. Social norms need to change; this needn't mean hardship or hunger, just a few conscious and well-informed adjustments to what we eat and how we live.
See blog posts on Bitter Sweet and Bring Back the Ancients for more ideas on what to eat that's good for you and good for the planet.
---
References
1. Forbes S, Bicknell E. A Rapid Review of the Environmental Impacts Associated with Food Consumption in Australia and New Zealand. Current Nutrition Reports, 2021;
2. Am J of Clin Nut, 2022.Single-item substitutions can substantially reduce the carbon and water scarcity footprints of US diets. Rose D et al.
3. Lancet Planet Health. 2020 Mar;4(3):e98-e106. Addressing the carbon footprint, healthfulness, and costs of self-selected diets in the USA: a population-based cross-sectional study. Willits-Smith A et al.